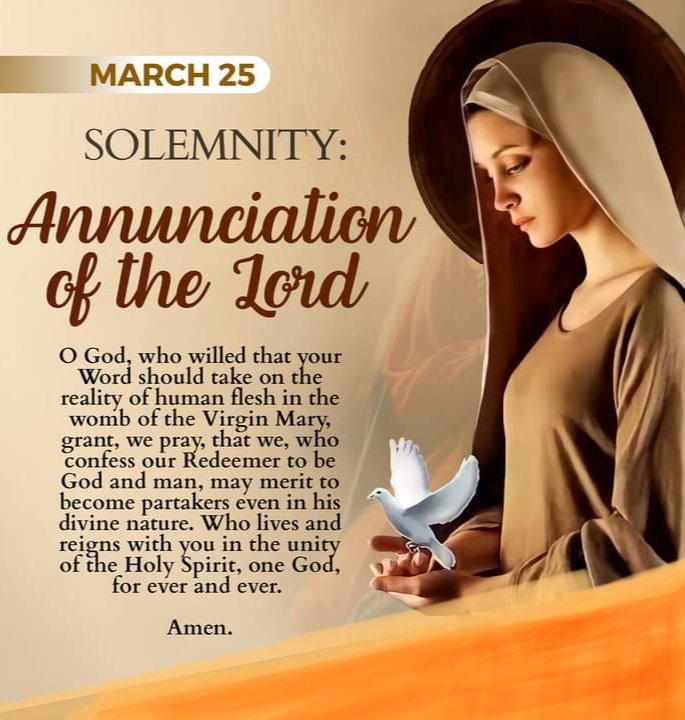 FEAST OF THE ANNUNCIATION
SOLEMNITY OF THE ANNUNCIATION OF THE LORD 
"And the Word was made flesh and dwelt among us."
GOSPEL FOR TODAY:
The angel Gabriel was sent from God to a town of Galilee called Nazareth, to a virgin betrothed to a man named Joseph, of the house of David, and the virgin's name was Mary.
And coming to her, he said,
"Hail, full of grace! The Lord is with you."
But she was greatly troubled at what was said and pondered what sort of greeting this might be.
Then the angel said to her, "Do not be afraid, Mary, for you have found favor with God. Behold, you will conceive in your womb and bear a son, and you shall name him Jesus.
He will be great and will be called Son of the Most High, and the Lord God will give him the throne of David his father, and he will rule over the house of Jacob forever, and of his Kingdom there will be no end."
But Mary said to the angel, "How can this be, since I have no relations with a man?" And the angel said to her in reply, "The Holy Spirit will come upon you, and the power of the Most High will overshadow you. Therefore the child to be born will be called holy, the Son of God.
And behold, Elizabeth, your relative, has also conceived a son in her old age, and this is the sixth month for her who was called barren; for nothing will be impossible for God." Mary said, "Behold, I am the handmaid of the Lord. May it be done to me according to your word." Then the angel departed from her. – Luke 1:26-38
The Annunciation of the Lord, is the Christian celebration of the announcement by the Archangel Gabriel to the Blessed Virgin Mary that she would conceive and become the mother of Jesus, the Jewish messiah and Son of God, marking His Incarnation. Gabriel told Mary to name her son Jesus, meaning "YAHWEH is salvation".
The angel GABRIEL announced to Mary the Good News of the coming of the Messiah. Mary would conceive a son, Emmanuel, in the Holy Spirit. It was something new to Mary. Yet, the angel assured her that nothing is impossible with God. In faith, Mary obeyed God's will.
The Annunciation is a major event since it brought to humanity the fulfillment of God's promise which was foretold by the prophets a long time ago. The waiting is over. God's grace of salvation has entered history.
It is interesting that God involved a woman, to usher in his plan of Salvation. It is more interesting because it was a woman who enticed the first man, Adam, into sin. Now, a woman will pave the way for God's intention to save humanity.
Women started as a discriminated lot. Society was dominated by men. A patriarchal society was prevalent in most countries. Women had to perforce, fight for their rights. But with God, there is no discrimination. He equalizes all things. For God to have chosen a woman,
Mary and the role of a mother to play a vital role in His economy of saving humanity, is a strong statement about woman which we must neither underestimate nor disregard.
On this feast of the annunciation let us thank God for the gift of salvation and let us thank Mary, a woman, for her gift of faith and perfect obedience to God's Will.
PRAYER:
O Blessed Virgin Mary, on this very special day for mankind, when God's plan for the eternal salvation of man was introduced and brought to fruition through you, we give thanks to the Holy Trinity for choosing you to be the mother of our Savior, Jesus Christ. You made manifest the strength, courage, complete trust in God and tenacity of purpose without any hesitation or regard for self, that women are indeed powerfully endowed by God to hearken to His call and obey His commands with stoic reserve, gracious consent, grave comprehension and gentle submission.
By your example, help us to hear the Word of God and respond with generous hearts to the message of the gospel. May we live our lives in humble service to our brethren, with love of God, faith in Christ our Redeemer and joy in following and accomplishing God's Will, even in the midst of trials and persecution, reaching out to all who are most in need. Through Christ our Lord. Amen