FEAST OF SAINT JANUARIUS, MARTYR FEAST DAY – 19th SEPTEMBER 
Januarius I of Benevento, was Bishop of Benevento and is a martyr and saint of the Catholic Church and the Eastern Orthodox Church. While no contemporary sources on his life are preserved, later sources and legends claim that he died during the Great Persecution,[3] which ended with Diocletian's retirement in 305. Januarius is the patron saint of Naples, where the faithful gather three times a year in Naples Cathedral to witness the liquefaction of what is claimed to be a sample of his blood kept in a sealed glass ampoule.
According to various hagiographies, Januarius was born in Benevento to a rich patrician family that traced its descent to the Caudini tribe of the Samnites. At a young age of 15, he became local priest of his parish in Benevento, which at the time was relatively pagan. When Januarius was 20, he became Bishop of Naples and befriended Juliana of Nicomedia and Saint Sossius whom he met during his priestly studies.
During the 1+1⁄2-year-long persecution of Christians by Emperor Diocletian, he hid his fellow Christians and prevented them from being caught. Unfortunately, while visiting Sossius in jail, he too was arrested. He and his colleagues were condemned to be thrown to wild bears in the Flavian Amphitheater at Pozzuoli, but the sentence was changed due to fear of public disturbances, and they were instead beheaded at the Solfatara crater near Pozzuoli. Other legends state either that the wild beasts refused to eat them, or that he was thrown into a furnace but came out unscathed.
The earliest extant mention of him is contained in a 432 letter by Uranius, bishop of Nola, on the death of his mentor Saint Paulinus of Nola, where it is stated that the ghosts of Januarius and Saint Martin appeared to Paulinus three days before the latter's death in 431. About Januarius, the account says only that he was "bishop as well as martyr, an illustrious member of the Neapolitan church".
The Acta Bononensia says that "At Pozzuoli in Campania [is honored the memory] of the holy martyrs Januarius, Bishop of Beneventum, Festus his deacon, and Desiderius lector, together with Sossius deacon of the church of Misenum, Proculus, deacon of Pozzuoli, Eutyches, and Acutius, who after chains and imprisonment were beheaded under the emperor Diocletian". Saint Januarius is the patron saint of of blood banks; Naples; volcanic eruptions.
Of all the miracles, wonders, and theological rarities that leave God's family in awe, the miracle of today's saint is one of the most astounding. Three times a year, on his day of martyrdom, September 19; on the day of his commemoration as Patron of Naples, December 16; and on the Saturday before the first Sunday of May, recalling the gathering together of his various relics, the blood of Saint Januarius liquefies.
Perhaps the most interesting thing about the liquifying of Saint Januarius' blood is that it occurs for no specific purpose. No sick person is healed, no sacrament is celebrated, no bishop is elected. It is a divine folly. It occurs to edify, to entertain, and to inspire, as if religion were a theological sport, with God simply putting His talents on display for all to behold the spectacle from the pews, to gaze, mouth agape, at a wonder that can neither be explained nor be resisted.
PRAYER
Heavenly God, you have granted us your Saint Januarius, that we venerate the memory of this Martyr Saint, give us, we pray, the same courage to live for the glory of your Holy Name, that we may have the joy of his company to sing your praises for all eternity.
We ask this through our Lord Jesus Christ, your Son, who lives and reigns with you in the unity of the Holy Spirit, God, for ever and ever. Amen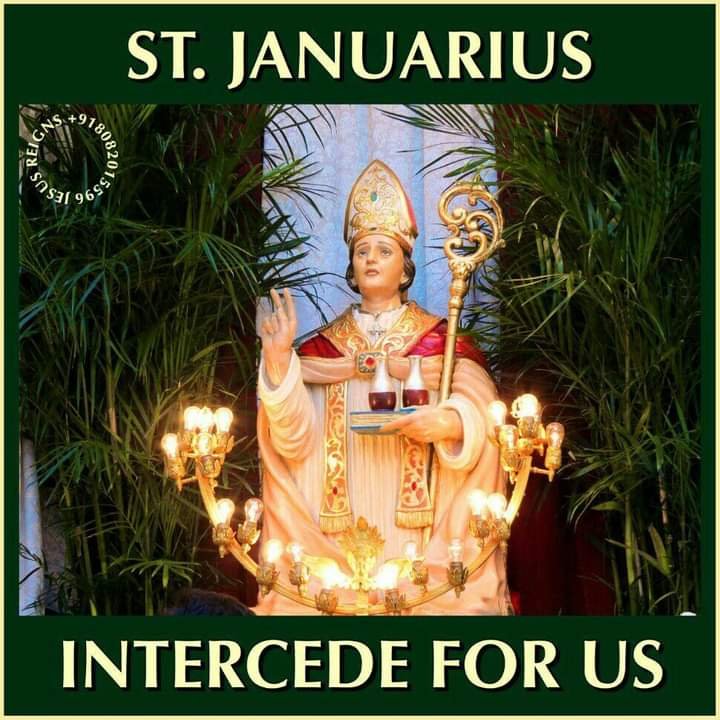 St. Januarius, pray for us.