FEAST OF SAINT JOSEPH OF CUPERTINO CONFESSOR
FEAST DAY – 18 SEPTEMBER
Joseph Desa (17 June 1603 – 18 September 1663), was born in the little city of Cupertino, near the Gulf of Tarento. It is said in the acts of the process of his canonization that at the age of five he already showed such signs of sanctity that if he had been an adult, he would have been venerated as a perfect man. Already in his youth he was ravished in ecstasies which literally tore him away from the earth; it has been calculated that perhaps half of his life for some sixty years was spent literally above the ground.
But much remains to be said of Saint Joseph, apart from his visible divine favors. He almost died at the age of seven from an interior abscess, which only his prayer to Our Lady cured. He learned to be a shoemaker to earn his living, but was often absent in spirit from his work. He treated his flesh with singular rigor. The Cardinal de Lauria, who knew him well for long years, said he wore a very rude hair shirt and never ate meat, contenting himself with fruits and bread.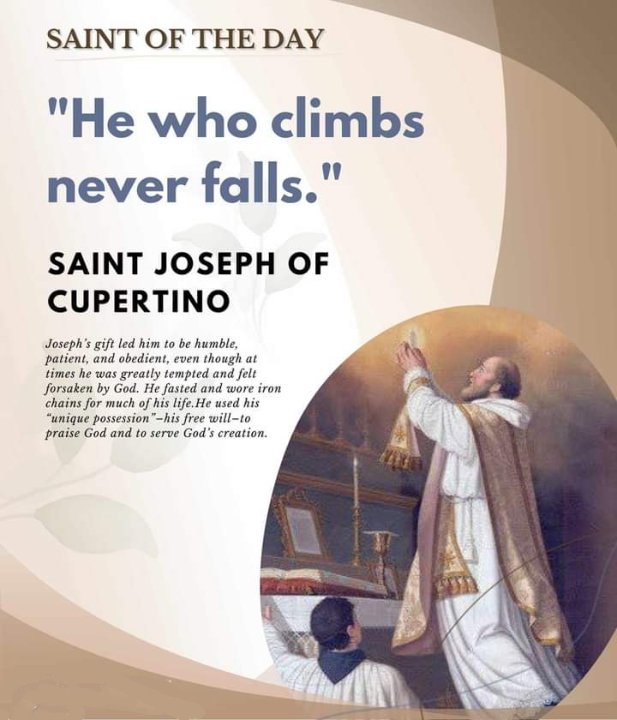 He seasoned his soup, if he accepted any, with a dry and very bitter powder of wormwood. At the age of seventeen he desired to become a conventual Franciscan, but was refused because he had not studied. He entered the Capuchins as a lay brother, but the divine favors he received seemed everywhere to bring down contempt upon him. He was in continuous contemplation and dropped plates and cauldrons.
He would often stop and kneel down, and his long halts in places of discomfort brought on a tumor of the knee which was very painful. It was decided that he lacked both aptitude and health, and he was sent home. He was then regarded everywhere as a vagabond and a fool, and his mother in particular was harsh, as had been her custom for long years. She did, however, obtain permission for him to take charge of the stable for the conventual Franciscans, wearing the habit of the Third Order.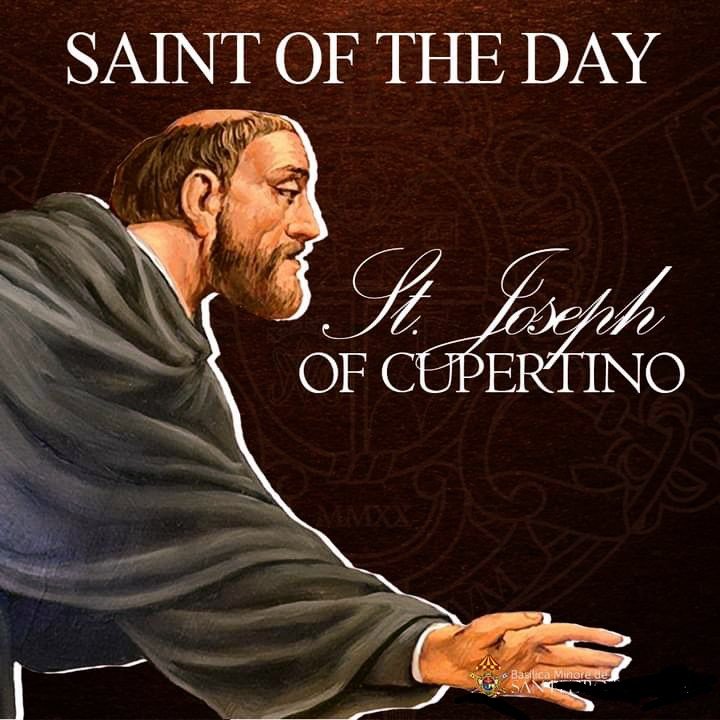 Saint Joseph proved himself many times to be perfectly obedient. His humility was heroic, and his mortification most exceptional. His words bore fruit and wakened the indifferent, warned against vice and in general were seen to come from a man who was very kind and very virtuous. He was finally granted the habit. He read with difficulty and wrote with still more difficulty, but the Mother of God was watching over him.
When by the intervention of the bishop he had been admitted to minor Orders, he desired to be a priest but knew well only one text of the Gospel. By a special Providence of God, that was the text he was asked to expound during the canonical examination for the diaconate. The bishop who was in charge of hearing candidates for the priesthood found that the first ones answered exceptionally well, and he decided to ordain them all without any further hearings, thus passing Joseph with the others. He was ordained in 1628.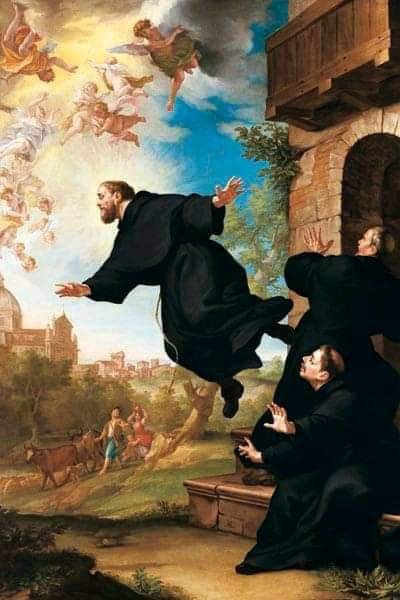 He retired to a hermitage where he was apparently in nearly continuous ecstasy, or at least contemplation. He kept nothing for himself save the tunic he wore. Rejoicing to be totally poor, he felt entirely free also. He obeyed his Superiors and went wherever he was sent, wearing sandals and an old tunic which often came back with pieces missing; the people had begun to venerate him as a Saint, and had cut them off.
When he did not notice what was happening, he was reproached as failing in poverty. The humble Brother wanted to pass for a sinner; he asked for the lowest employments, and transported the building materials for a church on his shoulders. He begged for the community. At the church he was a priest; elsewhere, a poor Brother. Toward the end of his life all divine consolations were denied the Saint, including his ecstasies.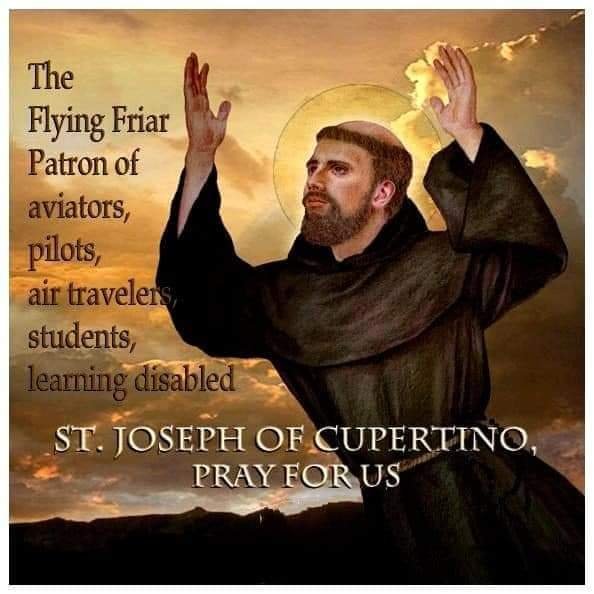 He fell victim to an aridity which was unceasing, and he could find no savor in any holy reading. Then the infernal spirits inspired terrible visions and dreams. He shed tears amid this darkness and prayed his Saviour to help him, but received no answer. When the General of the Order heard of this, he called him to Rome, and there he recovered from the fearful trial, and all his joy returned.
He still had combats with the enemy of God to bear just the same, when the demons took human form to attempt to injure him physically. Other afflictions were not spared him, but his soul overcame all barriers between himself and God. He died on September 18, 1663, at the age of 63, in the Franciscan convent of Osino. He had celebrated Holy Mass up to and including the day before his death, as he had foretold he would do. He is Patron of air travellers; astronauts; aviators; paratroopers; pilots; students; test takers.
– Les Petits Bollandistes: Vies des Saints, by Msgr. Paul Guérin (Bloud et Barral: Paris, 1882), Vol. 11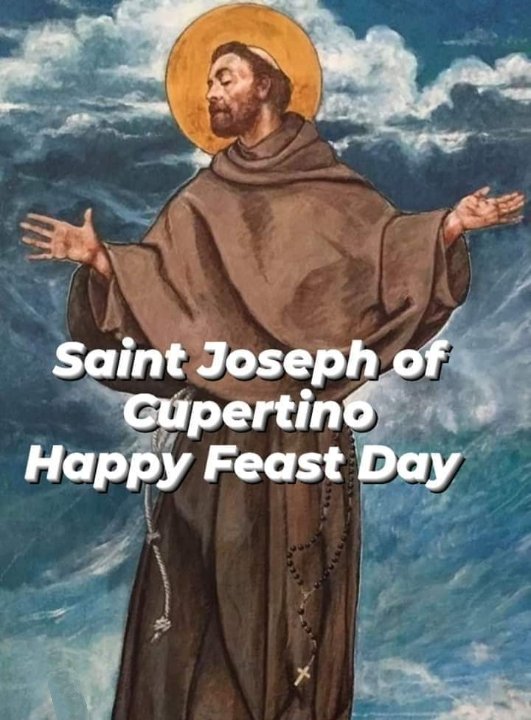 PRAYER TO ST. JOSEPH OF CUPERTINO FOR SUCCESS IN EXAMINATIONS
O humble St. Joseph of Cupertino, singularly favored by God in overcoming the difficulties of study and the worries of examinations, implore the Holy Spirit to enlighten my mind and strengthen my memory in the search of His truth and wisdom. Help me especially in the decisive moments of this examination, protecting me from that forgetfulness and disturbing anxiety which often affect me.
May I succeed in offering God my finest work and may I grow in knowledge, understanding, humility and charity. May everything that I attempt to learn in life be offered in faithful service to God, from whom flows that wisdom which leads to eternal life. Amen.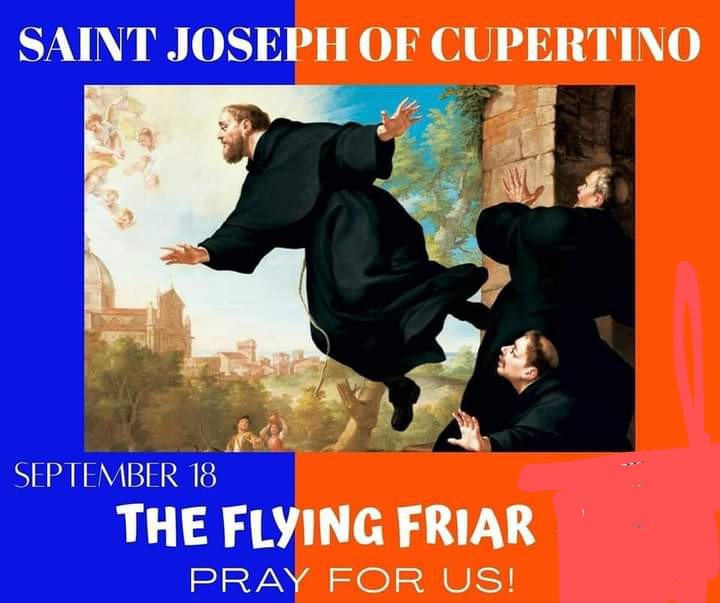 St. Joseph of Cupertino pray for us.
(Jesus Reigns Marian Movement App)