FEAST OF SAINT JUNÍPERO SERRA
FEAST DAY – 1st JULY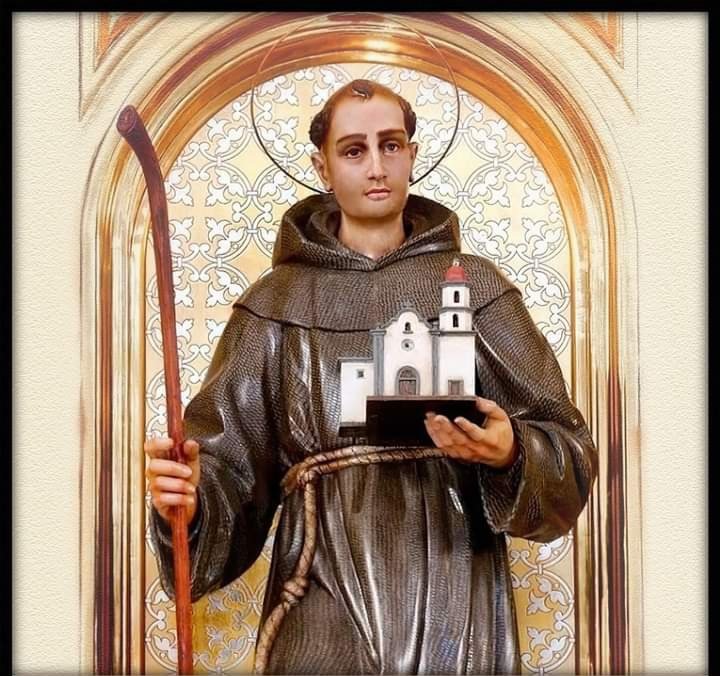 Junípero Serra y Ferrer, (November 24, 1713 – August 28, 1784) was a Spanish Roman Catholic priest and missionary of the Franciscan Order. He is credited with establishing the Franciscan Missions in the Sierra Gorda, a UNESCO World Heritage Site. He later founded a mission in Baja California and the first nine of 21 Spanish missions in California from San Diego to San Francisco, in what was then Spanish-occupied Alta California in the Province of Las Californias, New Spain.
Serra was beatified by Pope John Paul II on 25 September 1988 in Vatican City. Amid denunciations from Native American tribes who accused Serra of presiding over a brutal colonial subjugation, Pope Francis canonized Serra on 23 September 2015 at the Basilica of the National Shrine of the Immaculate Conception in Washington, D.C., during his first visit to the United States. Serra's missionary efforts earned him the title of "Apostle of California".
Serra was born Miquel Josep Serra i Ferrer in the village of Petra on the island of Mallorca in the Balearic Islands off the Mediterranean coast of Spain. His father Antonio Nadal Serra and mother Margarita Rosa Ferrer were married in 1707. By age seven, Miquel was working the fields with his parents, helping cultivate wheat and beans, and tending the cattle. But he showed a special interest in visiting the local Franciscan friary at the church of San Bernardino.
Attending the friars' primary school at the church, Miquel learned reading, writing, mathematics, Latin, religion and liturgical song, especially Gregorian chant. Gifted with a good voice, he eagerly took to vocal music. The friars sometimes let him join the community choir and sing at special church feasts. Miquel and his father Antonio often visited the friary for friendly chats with the Franciscans.
At age 16, Miquel's parents enrolled him in a Franciscan school in the capital city, Palma de Majorca, where he studied philosophy. A year later, he became a novice in the Franciscan order. On September 14, 1730, some two months before his 17th birthday, Serra entered the Franciscan Order at Palma, specifically, the Alcantarine branch of the Friars Minor, a reform movement in the Order.
The slight and frail Serra now embarked on his novitiate period, a rigorous year of preparation to become a full member of the Franciscan Order. He was given the religious name of Junípero in honor of Brother Juniper, who had been among the first Franciscans and a companion of Francis of Assisi. The young Junípero, along with his fellow novices, vowed to scorn property and comfort, and remain celibate. He still had seven years to become an ordained Catholic priest.
He immersed himself in rigorous studies of logic, metaphysics, cosmology, and theology. The daily routine at the friary followed a rigid schedule: prayers, meditation, choir singing, physical chores, spiritual readings, and instruction. The friars would wake up every midnight for another round of chants. In his free time, Serra avidly read stories about Franciscan friars roaming the provinces of Spain and around the world to win new souls for the church, suffering martyrdom in the process.
In 1737, Serra became a priest, and three years later earned an ecclesiastical license to teach philosophy at the Convento de San Francisco. His philosophy course, including over 60 students, lasted three years. Among his students were fellow future missionaries Francisco Palóu and Juan Crespí.
When the course ended in 1743, Serra told his students: "I desire nothing more from you than this, that when the news of my death shall have reached your ears, I ask you to say for the benefit of my soul: 'May he rest in peace.' Nor shall I omit to do the same for you so that all of us will attain the goal for which we have been created."
Serra was considered intellectually brilliant by his peers. He received a doctorate in theology from the Lullian College (founded in the 14th century by Ramon Lull for the training of Franciscan missionaries) in Palma de Majorca, where he also occupied the Duns Scotus chair of philosophy until he joined the missionary College of San Fernando de Mexico in 1749.
During Serra's last five years on the island of Majorca, drought and plague afflicted his home village of Petra. Serra sometimes went home from Palma for brief visits to his parents—now separated—and gave them some financial support. On one occasion he was called home to anoint his seriously ill father with the last rites.
In one of his final visits to Petra, Serra found his younger sister Juana María near death. In 1748, Serra and Palóu confided to each other their desire to become missionaries. Serra, now 35, was assured a prestigious career as priest and scholar if he stayed in Majorca; but he set his sights firmly on pagan lands. Applying to the colonial bureaucracy in Madrid, Serra requested that both he and Palóu embark on a foreign mission.
After weathering some administrative obstacles, they received permission and set sail for Cádiz, the port of departure for Spain's colonies in the Americas. While waiting to set sail, Serra wrote a long letter to a colleague back in Majorca, urging him to console Serra's parents—now in their 70s—over their only son's pending departure.
"They [my parents] will learn to see how sweet is His yoke," Serra wrote, "and that He will change for them the sorrow they may now experience into great happiness. Now is not the time to muse or fret over the happenings of life but rather to be conformed entirely to the will of God, striving to prepare for that happy death which of all the things of life is our principal concern."
Serra asked his colleague to read this letter to his parents, who had never attended school. In 1749, Serra and the Franciscan missionary team landed in Veracruz, on the Gulf coast of New Spain (now Mexico). Royal officials provided horses for the 20 Franciscan friars to ride up the Camino Real. All accepted the offer, except for Serra and one companion, a friar from Andalusia.
Strictly following the rule of his patron saint Francis of Assisi that friars "must not ride on horseback unless compelled by manifest necessity or infirmity," Serra insisted on walking to Mexico City. He and his fellow friar set out on the Camino Real with no money or guide, carrying only their breviaries. They trusted in Providence and the hospitality of local people along the way.
During the trek, Serra's left foot swelled up, and a burning itch tormented him. Arriving at a farm at day's end, he could hardly stand. He attributed the swelling to a mosquito bite. His discomfort caused him to stay over at the farm another night, during which he scratched his foot and leg to excess, desperately trying to relieve the itch.
The next morning his leg was raw and bleeding. This wound plagued Serra for the rest of his life. Hobbling into Mexico City, Serra joined up with his fellow friars at the College of San Fernando de Mexico, a specialized training center and regional headquarters for Franciscan missionaries. Serra requested that he do his novitiate year again—despite his academic prestige, and the fact that the college's novices were far younger men.
Though his request was declined, Serra insisted on living as a novice at San Fernando: "This learned university professor … would often eat more sparingly in order to replace the student whose turn it was to read to the community. Or he would humbly carry trays and wait on tables with the lay brothers."
The Sierra Gorda Indian missions, some 90 miles north of Santiago de Querétaro, were nestled in a vast region of jagged mountains, home of the Pame people and a scattering of Spanish colonists. The Pames—who centuries earlier had built a civilization with temples, idols and priests—lived mainly by gathering and hunting, also pursuing agriculture. Many groups among them, adopting mobile guerrilla tactics, had eluded conquest by the Spanish military.
Serra and Palóu, arriving at the village of Jalpan, found the mission in disarray: The parishioners, numbering fewer than a thousand, were attending neither confession nor Mass. The two missionaries set about learning the Pame language from a Mexican who had lived among the Pames. But the statement by Palóu that Serra translated the catechism into the Pame language is questionable, as Serra himself later admitted he had great difficulties learning indigenous languages.
Serra involved Pames parishioners in the ritual reenactment of Jesus' forced death march. Erecting 14 stations, Serra led the procession himself, carrying an extremely heavy cross. At each station, the procession paused for a prayer, and at the end Serra sermonized on the sufferings and death of Jesus. On Holy Thursday, 12 Pames elders reenacted the roles of the apostles. Serra, in the role of Jesus, washed their feet and then, after the service, dined with them.
Serra also tackled the practical side of mission administration. Working with the college of San Fernando, he had cattle, goats, sheep, and farming tools brought to the Sierra Gorda mission. Palóu supervised the farm labor of men of the mission; the women learned spinning, sewing and knitting. Christian Pames sold their surplus products in nearby trading centers, under the friars' supervision to protect them from cheaters.
Pames who adapted successfully to mission life received their own parcels of land to raise corn, beans and pumpkins, and sometimes received oxen and seeds as well. Within two years, Serra had made inroads against the Pames' traditional belief system. On his 1752 visit from the Sierra Gorda mission to the college of San Fernando in Mexico City, Serra joyfully carried a goddess statue presented by Christian Pames.
The statue, showing the face of Cachum, mother of the sun, had been erected on a hilltop shrine where some Pame chiefs lay buried. Back in the Sierra Gorda, Serra faced a conflict between Spanish soldiers, settlers, and mission natives or "Indians". Following a Spanish military victory over the Pames in 1743, Spanish authorities had sent not only Franciscan missionaries, but also Spanish/Mexican soldiers and their families into the Sierra Gorda.
The soldiers had the job of pursuing runaway mission Indians and securing the region for the Spanish crown. But the soldiers' land claims clashed with mission lands that Christian Pames were working. Some of the soldiers' families tried to establish a town, and the officer in charge of their deployment approved their plan. The Pames objected, threatening to defend their lands by force if necessary.
Soldiers and settlers let their cattle graze on Christian Pames' farmlands and bullied Pames into working for them. Serra and the College of San Fernando sided with the Pames—citing the Laws of the Indies, which banned colonial settlements in mission territories. The viceroy, Spain's highest official in Mexico, suspended the intrusive colony.
But the townspeople protested and stayed put. The government set up commissions and looked into alternative sites for the colony. It ordered the settlers to keep their cattle out of the Pames' fields, and to pay the Pames fairly for their labor (with the friars supervising payment). After a protracted legal struggle, the settlers moved out, and in 1755 the Pames and friars reclaimed their land.
Crowning his Sierra Gorda mission, Serra oversaw the construction of a splendid church in Jalpan. Gathering masons, carpenters, and other skilled craftsmen from Mexico City, Serra employed Christian Pames in seasonal construction work over the course of seven years to complete the church. Serra pitched in himself, carrying wooden beams, and applying mortar between the stones forming the church walls.
During his 1752 visit to Mexico City, Serra sent a request from the college of San Fernando to the local headquarters of the Spanish Inquisition. He asked that an inquisitor be appointed to preside over the Sierra Gorda. The next day, Inquisition officials appointed Serra himself as inquisitor for the whole region—adding that he could exercise his powers anywhere he did missionary work in New Spain, as long as there was no regular Inquisition official in the region.
In September 1752, Serra filed a report to the Spanish Inquisition in Mexico City from Jalpan, on "evidences of witchcraft in the Sierra Gorda missions." He denounced several Christian non-Indians who lived in and around the mission for "the most detestable and horrible crimes of sorcery, witchcraft and devil worship. … If it is necessary to specify one of the persons guilty of such crimes, I accuse by name a certain Melchora de los Reyes Acosta, a married mulattress, an inhabitant of the said mission.
In these last days a certain Cayetana, a very clever Mexican woman of said mission, married to one Pérez, a mulatto, has confessed that in the mission there is a large congregation of [Christian non-Indians], although some Indians also join them, and that these persons, flying through the air at night, meet in a cave on a hill near a ranch called El Saucillo, where they worship and sacrifice to the demons who appear visibly there in the guise of young goats and various other things of that nature.
According to modern Franciscan historians, this report by Serra to the Inquisition is the only letter of his that has survived from eight years of mission work in the Sierra Gorda. Serra's first biographer, Francisco Palóu, wrote that Serra, in his role of inquisitor, had to work in many parts of Mexico and travel long distances.
In 1758, Serra returned to the College of San Fernando. Over the next nine years he worked in the college's administrative offices, and as a missionary and inquisitor in the dioceses of Mexico, Puebla, Oaxaca, Valladolid, and Guadalajara. Emulating an earlier Franciscan missionary and saint, Francisco Solano, Serra made a habit of punishing himself physically, to purify his spirit.
He wore a sackcloth spiked with bristles, or a coat interwoven with broken pieces of wire, under his gray friar's outer garment. In his austere cell, Serra kept a chain of sharp pointed iron links hanging on the wall beside his bed, to whip himself at night when he had sinful thoughts. His nightly self-flagellations at the college of San Fernando were heard by some of his fellow friars.
In his letters to his Franciscan companions, Serra often referred to himself as a "sinner" and a "most unworthy priest." In one of his sermons in Mexico City, while exhorting his listeners to repent their sins, Serra took out his chain, bared his shoulders and started whipping himself. Many parishioners, roused by the spectacle, began sobbing.
Finally, a man climbed to the pulpit, took the chain from Serra's hand and began whipping himself, declaring: "I am the sinner who is ungrateful to God who ought to do penance for my many sins, and not the padre, who is a saint." The man kept whipping himself until he collapsed. After receiving the last sacraments, he died from the ordeal.
During other sermons on the theme of repentance, Serra would hoist a large stone in one hand and, while clutching a crucifix in the other, smash the stone against his chest. Many of his listeners feared that he would strike himself dead. Later, Serra suffered chest pains and shortness of breath; Palóu suggests that Serra's self-inflicted bruises were the cause.
While preaching of hell and damnation, Serra would sear his flesh with a four-pronged candle flame—emulating a famed Franciscan preacher, John of Capistrano. Palóu described this as "quite violent, painful, and dangerous towards wounding his chest." Serra did not stand alone among Catholic missionaries in displaying self-punishment at the pulpit.
The more zealous Franciscan and Jesuit missionaries did likewise. But few took it to the extremes that Serra did. The regulations of the college of San Fernando said that self-punishment should never be carried to the point of permanently incapacitating oneself.
On June 24, 1767, the Viceroy of New Spain, Carlos Francisco de Croix, read a Spanish royal decree to Mexico's archbishop and assembled church officials: "Repair with an armed force to the houses of the Jesuits. Seize the persons of all of them and, within 24 hours, transport them as prisoners to the port of Veracruz.
Cause to be sealed the records of said houses and records of such persons without allowing them to remove anything but their breviaries and such garments as are absolutely necessary for their journey. If after the embarkation there should be found one Jesuit in that district, even if ill or dying, you shall suffer the penalty of death."
Spain's king Carlos III had plotted the expulsion of Jesuits throughout his empire five months earlier. On the Baja California peninsula, newly appointed governor Gaspar de Portolá had to notify and remove the Jesuits from the chain of missions they had developed in forbidding territory over 70 years. By February 1768, Portolá gathered the 16 Baja Jesuit missionaries in Loreto, from where they sailed to mainland Mexico for deportation.
Sympathetic to the Jesuits, Portolá treated them kindly even as he removed them under the king's orders. During the remaining three years of his life, he once more visited the missions from San Diego to San Francisco, traveling more than 600 miles in the process, to confirm all who had been baptized. He suffered intensely from his disabled leg and from his chest, yet he would use no remedies.
He confirmed 5,309 people, who, with but few exceptions, were California Indian neophytes converted during the fourteen years from 1770. On August 28, 1784, at the age of 70, Junípero Serra died at Mission San Carlos Borromeo from tuberculosis. He is buried there under the sanctuary. Following Serra's death, leadership of the Franciscan missionary effort in Alta California passed to Fermín Lasuén.
Junípero Serra was beatified by Pope John Paul II on September 25, 1988. The pope spoke before a crowd of 20,000 in a beatification ceremony for six; according to the pope's address in English, "He sowed the seeds of Christian faith amid the momentous changes wrought by the arrival of European settlers in the New World.
It was a field of missionary endeavor that required patience, perseverance, and humility, as well as vision and courage." During Serra's beatification, questions were raised about how Indians were treated while Serra was in charge. The question of Franciscan treatment of Indians first arose in 1783.
The famous historian of missions Herbert Eugene Bolton gave evidence favorable to the case in 1948, and the testimony of five other historians was solicited in 1986. Serra was canonized by Pope Francis on September 23, 2015, as a part of the pope's first visit to the United States, the first canonization to take place on American soil.
During a speech at the Pontifical North American College in Rome on May 2, 2015, Pope Francis stated that "Friar Junípero … was one of the founding fathers of the United States, a saintly example of the Church's universality and special patron of the Hispanic people of the country." Junípero Serra is the second native saint of the Balearic Islands after Catherine of Palma.
He is also included among the Saints of the United States and México. Serra's feast day is celebrated on July 1 in the United States and on August 28 everywhere. He is considered to be the patron saint of California, Hispanic Americans, and religious vocations.
The Mission in Carmel, California, containing Serra's remains has continued as a place of veneration.
The burial location of Serra is southeast of the altar and is marked with an inscription in the floor of the sanctuary. Other relics are remnants of the wood from Serra's coffin on display next to the sanctuary, and personal items belonging to Serra on display in the mission museums. A bronze and marble sarcophagus depicting Serra's life was completed in 1924 by the sculptor Jo Mora, but Serra's remains have never been transferred to that sarcophagus.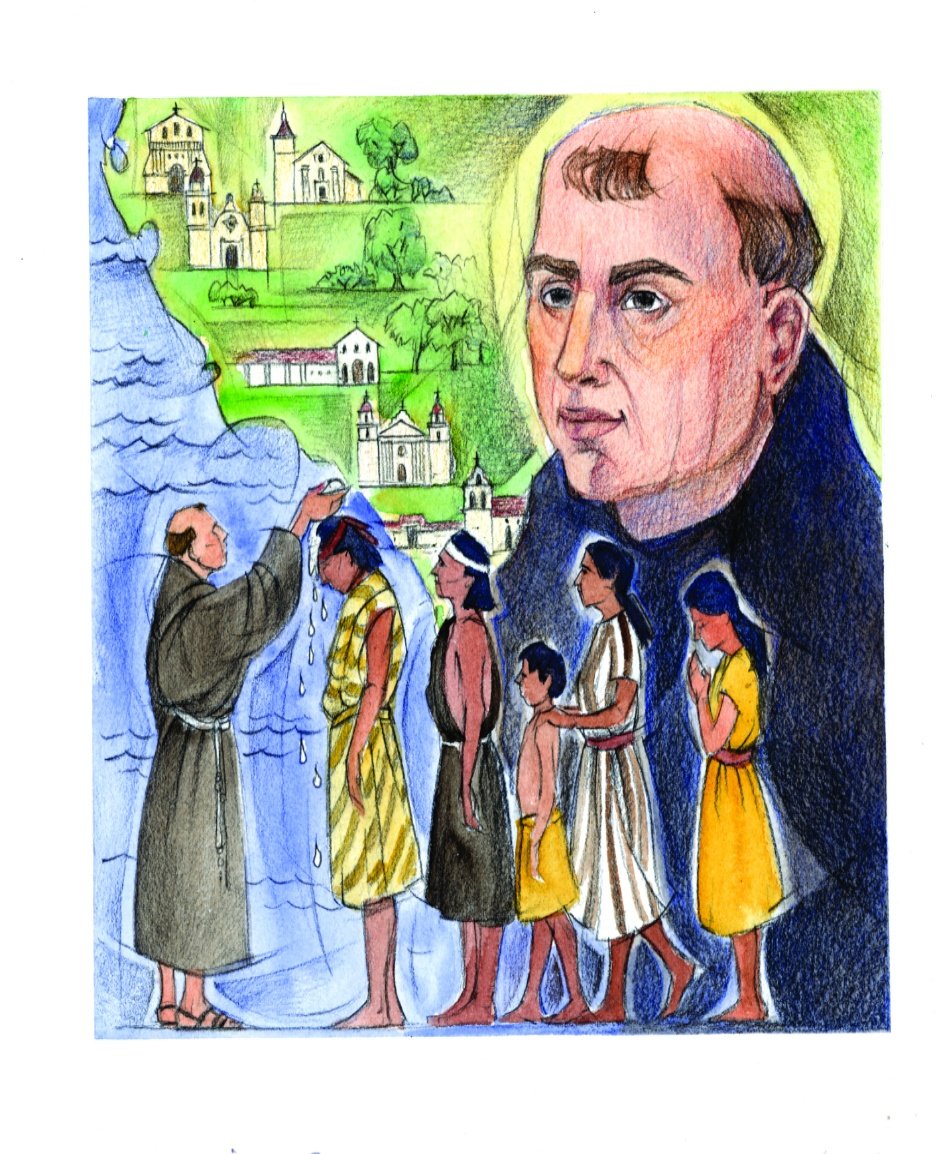 PRAYER
Dear God, your saint Junipero Serra, devoted his life for the conversion of those in remote parts, working with missionary zeal to spread the light of Christ. He weathered hardships to make your Word resonate in the hearts of hundreds of millions of Catholics.
Grant us the grace to instruct and guide others to you, by the light of our faith and the wisdom of the Holy Spirit, through Christ our Lord. Amen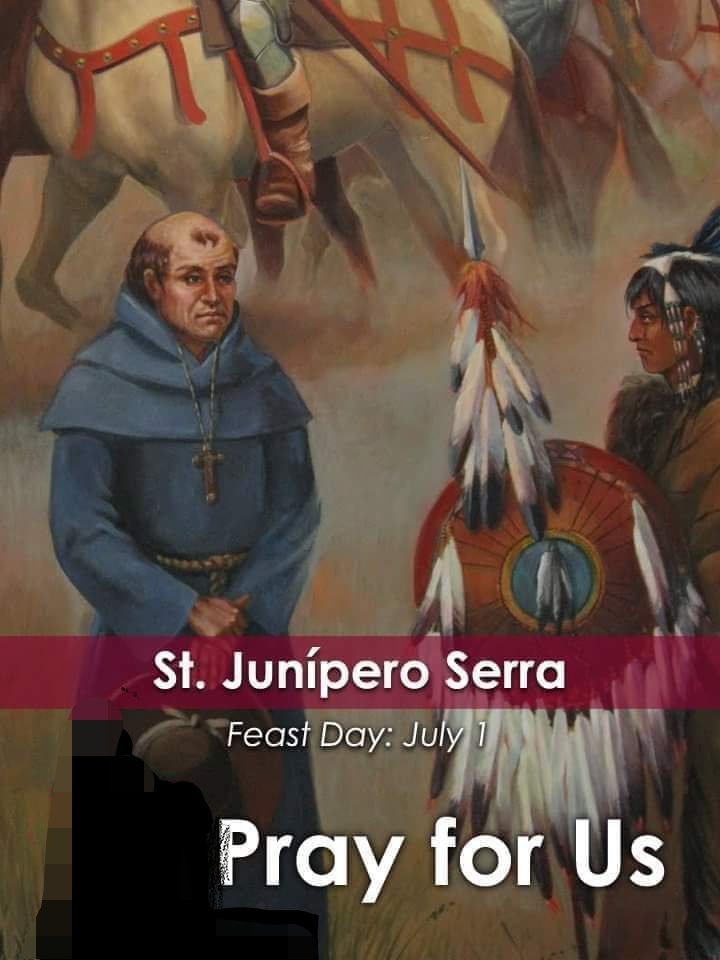 Saint Junípero Serra, please intercede for us before the throne of Christ. Amen