FEAST OF SAINT KATERI TEKAKWITHA, VIRGIN
FEAST DAY – 14th JULY
Kateri Tekakwitha is the first Native American to be recognized as a saint by the Catholic Church. She was born in 1656, in the Mohawk village of Ossernenon. Her mother was an Algonquin, who was captured by the Mohawks and who took a Mohawk chief for her husband.
She contracted smallpox as a four-year-old child which scarred her skin. The scars were a source of humiliation in her youth. She was commonly seen wearing a blanket to hide her face. Worse, her entire family died during the outbreak. Anastasia, a friend of Kateri's mother, took care of her and told her stories about the Christian God. Then Anastasia left for Canada to join other Christians there.
Kateri was subsequently raised by her uncle, who was the chief of a Mohawk clan. He hated the coming of the Blackrobers – Jesuit missionaries – but could do nothing to them because a peace treaty with the French required their presence in villages with Christian captives. Kateri was moved by the words of three Blackrobers who lodged with her uncle, but fear of him kept her from seeking instruction.
Kateri was known as a skilled worker, who was diligent and patient. However, she refused to marry. When her adoptive parents proposed a suitor to her, she refused to entertain the proposal. They punished her by giving her more work to do, but she did not give in. Instead, she remained quiet and diligent. Eventually they were forced to relent and accept that she had no interest in marriage.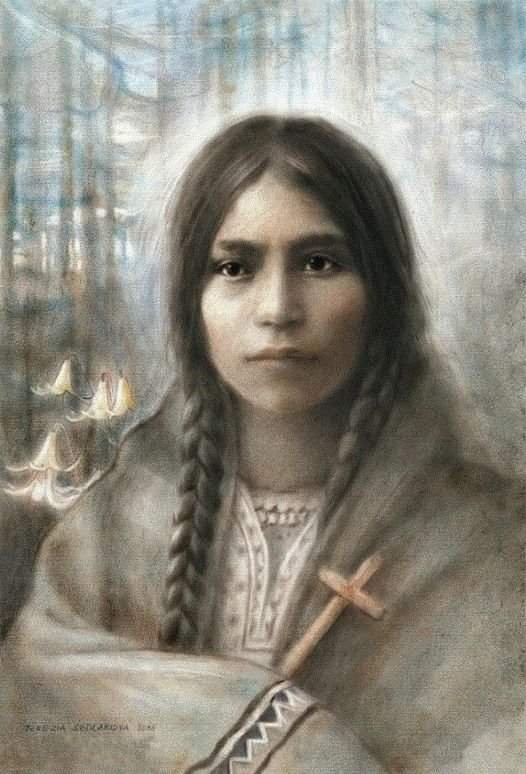 Finally, at age 19, Kateri Tekakwitha got the courage to take the step of converting to Catholicism. She was baptized with the name Kateri – Catherine – on Easter Sunday. Now she would be treated as a slave, taking a vow of chastity and pledging to marry only Jesus Christ. Her decision was very unpopular with her adoptive parents and their neighbors. Some of her neighbors started rumors of sorcery.
It was hard for Kateri to live as a Christian. Her people expected her to work in the fields on Sunday, the Lord's Day. Sometimes they didn't feed her. Children made fun of her and threw stones at her. Kateri endured this for two years. She found a place in the world where she could pray an hour a day and was accused of meeting a man there!
Her life in grace grew rapidly. She told a missionary that she often meditated on the great dignity of being baptized. She was powerfully moved by God's love for human beings and saw the dignity of each of her people. She was always in danger, for her conversion and holy life created great opposition.
Finally a priest advised Kateri to go to Canada where she would be with other Christians. One day when her uncle was not home, she left for Canada with a Christian named Hot Ashes. When Kateri's uncle found she was missing, he followed her but did not catch her.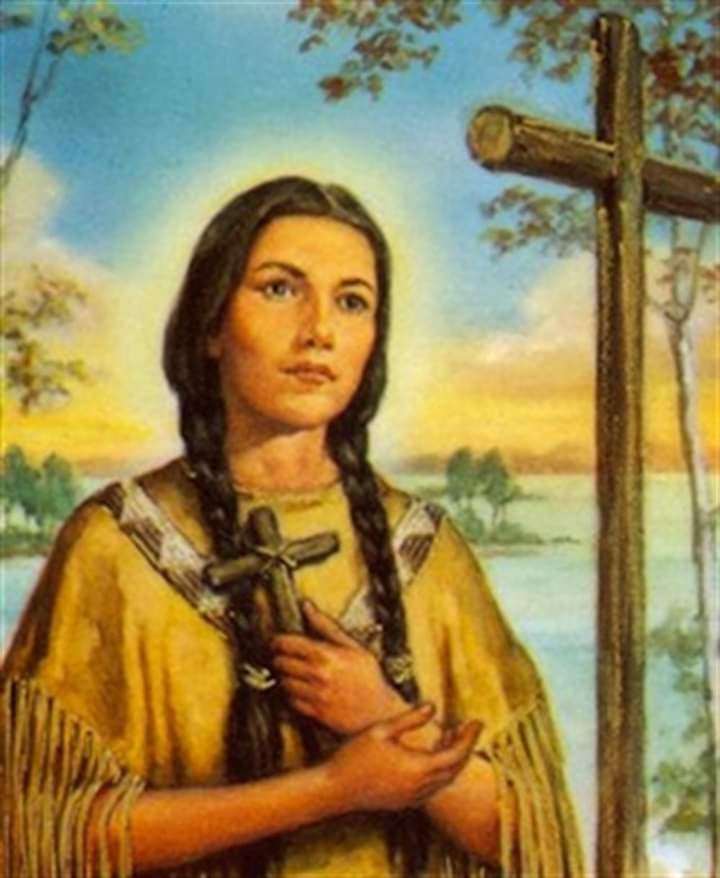 To avoid persecution, she traveled to a Christian native community south of Montreal. Kateri began a 200-mile walking journey to a Christian Indian village at Sault St. Louis, near Montreal. Kateri brought with her a note from the missionary priest to a Canadian priest that said, "I send you a treasure, Katherine Tekakwitha. Guard her well."
Kateri lived an outstanding Christian life. She went to Mass daily, made frequent visits to the Blessed Sacrament, and prayed the rosary often. She cared for the sick and the old and taught the children. She did much penance. For three years she grew in holiness under the direction of a priest and an older Iroquois woman, giving herself totally to God in long hours of prayer, in charity, and in strenuous penance.
She lived a life dedicated to prayer, penitential practices, and care for the sick and aged. Each morning she stood before the chapel door waiting for it to open. Kateri prayed throughout the day, remaining in chapel until after the last Mass. She was devoted to the Eucharist and to Jesus Crucified.
Her dedication to virginity was instinctive: Kateri did not know about religious life for women until she visited Montreal. Inspired by this, she and two friends wanted to start a community, but the local priest dissuaded her. She humbly accepted an "ordinary" life.
According to legend, Kateri was very devout and would put thorns on her sleeping mat. She often prayed for the conversion of her fellow Mohawks. According to the Jesuit missionaries, she often fasted and when she would eat, she would taint her food to diminish its flavor. On at least one occasion, she burned herself. Such self-mortification was common among the Mohawk.
Kateri was very devout and was known for her steadfast devotion. She was also very sickly. Her practices of self-mortification and denial may not have helped her health. Kateri suffered from bad headaches. She was not strong and could eat very little.
Sadly, just five years after her conversion to Catholicism, she became ill and passed away at age 24, on April 17, 1680. When she died, the scars on her face disappeared and she was beautiful. Kateri's last words were, "Jesus, I love you."
Saint Kateri Tekakwitha is the first Native American to be recognized as a saint by the Catholic Church. Her name, Kateri, is the Mohawk from of Catherine, which she took from Saint Catherine of Siena. She is informally known as Lily of the Mohawks.
St. Kateri Tekakwitha was canonized by Pope Benedict XVI on Oct. 21, 2012. She is the patroness of ecology and the environment, people in exile and Native Americans. She is also the Patron saint of those who have suffered loss of parents, orphans, and people ridiculed for their piety.
PRAYER
O Saint Kateri, Lily of the Mohawks, your love for Jesus, was so courageous, devout and complete that we pray we may become like you. Your short and painful life showed us your strength and humility. Help us to be humble.
May our hearts burn with love of Jesus with the same intensity you displayed, to become one like you in heaven. Through Christ our Lord. Amen