FEAST OF SAINT LAWRENCE OF BRINDISI, PRIEST AND APOSTOLIC DOCTOR OF THE CHURCH
FEAST DAY – 21st JULY
Lawrence of Brindisi (22 July 1559 – 22 July 1619), born Giulio Cesare Russo, was a Roman Catholic priest and a theologian as well as a member of the Order of Friars Minor Capuchin. An accomplished linguist, in addition to his native Italian, Lawrence could read and speak Latin, Hebrew, Greek, German, Czech, Spanish, and French fluently.
Giulio Cesare Russo was born in Brindisi, Kingdom of Naples, to a family of Venetian merchants. The Conventuals of Brindisi were entrusted with his education. Showing an early gift for oratory, he was always the one chosen to address, in accordance with the Italian custom, a short sermon to his compatriots on the Infant Jesus during the Christmas festivities.
He was twelve when his father died, and continued his education at Saint Mark's College in Venice under the supervision of one of his uncles. Cesare joined the Capuchins in Verona as Brother Lawrence. He received further instruction from the University of Padua. While still a deacon he preached the Lenten sermons in Venice. Lawrence was ordained a priest at the age of 23.
At the age of thirty-one, Lawrence was elected superior of the Capuchin Franciscan province of Tuscany. In 1596 he was appointed definitor general in Rome for the Capuchins. With his facility for languages Lawrence was able to study the Bible in its original texts. At the request of Pope Clement VIII, he spent much time preaching to the Jews in Italy.
So excellent was his knowledge of Hebrew, the rabbis felt sure he was a Jew who had become a Christian. Lawrence's sensitivity to the needs of people—a character trait perhaps unexpected in such a talented scholar—began to surface.
Beginning in 1599, Lawrence established Capuchin monasteries in modern Germany and Austria, furthering the Counter-Reformation and bringing many Protestants back to the Catholic faith. He also founded friaries in Vienna, Prague, and Graz. It was on the occasion of the foundation of the convent of Prague in 1601 that he was named the imperial chaplain for the army of Rudolph II, Holy Roman Emperor.
He successfully recruited Philippe Emmanuel, Duke of Mercœur, to help fight against the Ottoman Turks. He then led the army during the siege of Székesfehérvár in Hungary from the Ottoman Empire, armed only with a crucifix. In 1602, he was elected vicar general of the Capuchin friars, at that time the highest office in the Order.
He had the combination of brilliance, human compassion, and administrative skill needed to carry out his duties. In rapid succession he was promoted by his fellow Capuchins and was elected minister general of the Capuchins in 1602. In this position he was responsible for great growth and geographical expansion of the Order.
Lawrence was appointed papal emissary and peacemaker, a job which took him to a number of foreign countries. An effort to achieve peace in his native kingdom of Naples took him on a journey to Lisbon to visit the king of Spain. In 1956, the Capuchins completed a 15-volume edition of Lawrence's writings. Eleven of these 15 contain his sermons, each of which relies chiefly on scriptural quotations to illustrate his teaching.
He was elected again in 1605, but refused the office. Until his death, he was the best adviser of his successors. He entered the service of the Holy See, becoming papal nuncio to Bavaria. After serving as nuncio to Spain, he retired to a monastery in 1618. He was recalled as a special envoy to the King of Spain regarding the actions of the Viceroy of Naples in 1619. Finishing his mission, he died on his 60th birthday in Lisbon.
He was entombed at the Poor Clares' Convento de la Anunciada (Convent of the Annunciation) in Villafranca del Bierzo, Spain. Lawrence was beatified on 1 June 1783 and canonized as a saint on 8 December 1881. He was beatified by Pope Pius VI and was canonized in by Pope Leo XIII. In 1959 Pope John XXIII declared him Doctor of the Church with the title "Apostolic Doctor". His favorite blessing was, "Mary, with Her loving Son, bless us each and every one".
PRAYER
Eternal Father, you endowed Saint Lawrence of Brindisi with warm compassion and sensitivity to the needs of people. With his constant devotion to Scripture, he worked towards the edification of the Church, resulting in the title of Apostolic Doctor.
His lifestyle is greatly appealing to Christians today. He had a balance in his life that blended self-discipline with a keen appreciation for the needs of those whom he was called to serve.
Bless us, dear Lord, to approach our Christian mission with the same zeal and discipline. We pray in Jesus' Name. Amen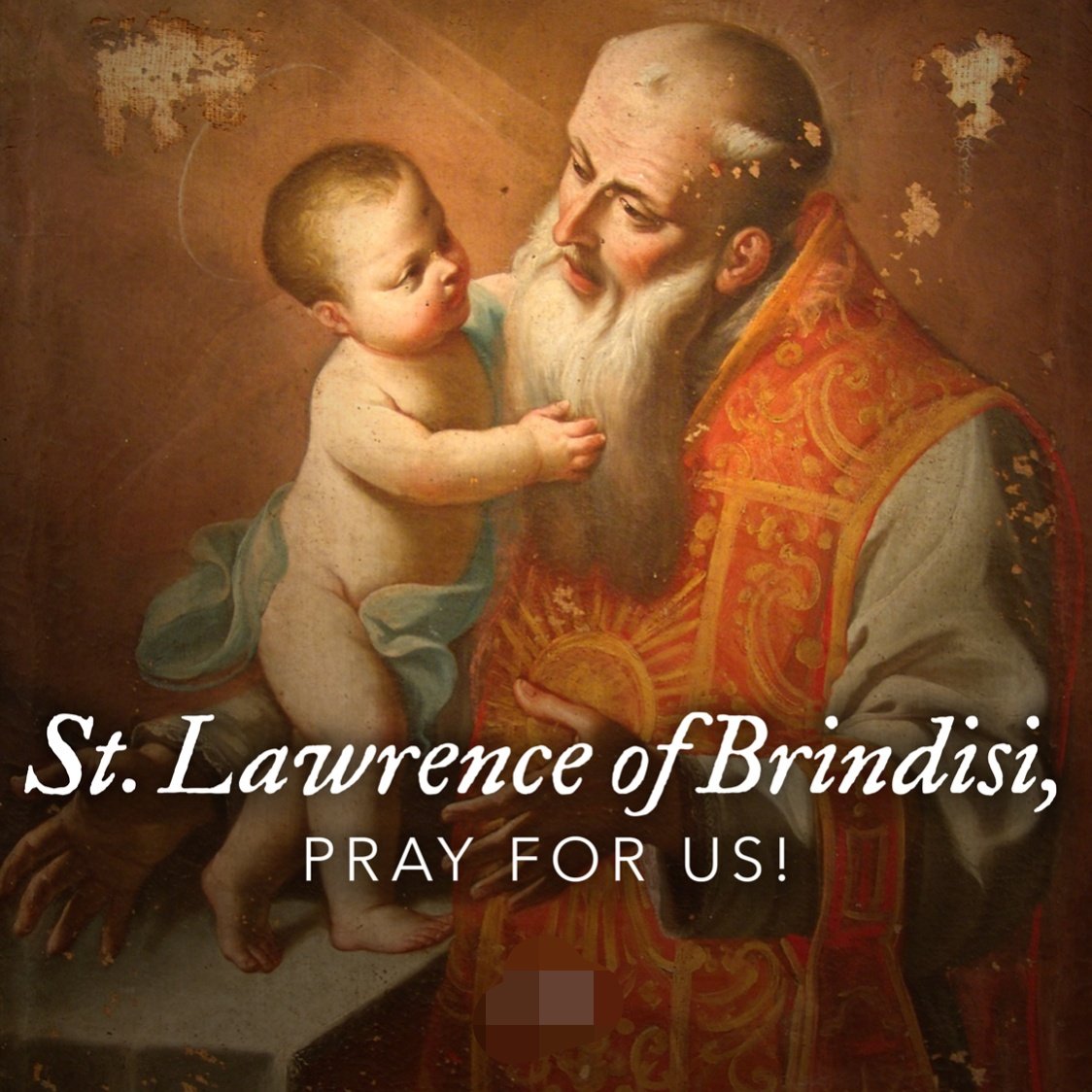 Saint Lawrence of Brindisi, pray for us.