FEAST OF SAINT ROBERT BELLARMINE CARDINAL BISHOP AND DOCTOR OF THE CHURCH
FEAST DAY – 17th SEPTEMBER
Robert Bellarmine, SJ (Italian: Roberto Francesco Romolo Bellarmino; 4 October 1542 – 17 September 1621) was an Italian Jesuit and a Cardinal of the Catholic Church. He was canonized a saint in 1930 and named Doctor of the Church, one of only 37. He was one of the most important figures in the Counter-Reformation.
Bellarmine was a professor of theology and later rector of the Roman College, and in 1602 became Archbishop of Capua. He supported the reform decrees of the Council of Trent. He is also widely remembered for his role in the Giordano Bruno affair, the Galileo affair, and the trial of Friar Fulgenzio Manfredi.
Bellarmine was born in Montepulciano, the son of noble, albeit impoverished, parents, Vincenzo Bellarmino and his wife Cinzia Cervini, who was the sister of Pope Marcellus II. As a boy he knew Virgil by heart and composed a number of poems in Italian and Latin. One of his hymns, on Mary Magdalene, is included in the Roman Breviary.
He entered the Roman Jesuit novitiate in 1560, remaining in Rome for three years. He then went to a Jesuit house at Mondovì, in Piedmont, where he learned Greek. While at Mondovì, he came to the attention of Francesco Adorno, the local Jesuit Provincial Superior, who sent him to the University of Padua.
Bellarmine's systematic studies of theology began at Padua in 1567 and 1568, where his teachers were adherents of Thomism. In 1569, he was sent to finish his studies at the University of Leuven in Brabant. There he was ordained and obtained a reputation both as a professor and as a preacher. He was the first Jesuit to teach at the university, where the subject of his course was the Summa Theologica of Thomas Aquinas.
His residency in Leuven lasted seven years. In poor health, in 1576 he made a journey to Italy. Here he remained, commissioned by Pope Gregory XIII to lecture on polemical theology in the new Roman College, now known as the Pontifical Gregorian University. Later, he would promote the cause of the beatification of Aloysius Gonzaga, who had been a student at the college during Bellarmine's tenure. His lectures were published under the title De Controversias in four large volumes
Until 1589, Bellarmine was occupied as professor of theology. After the murder in that year of Henry III of France, Pope Sixtus V sent Enrico Caetani as legate to Paris to negotiate with the Catholic League of France, and chose Bellarmine to accompany him as theologian. He was in the city during its siege by Henry of Navarre.
The next pope, Clement VIII, said of him, "the Church of God had not his equal in learning". Bellarmine was made rector of the Roman College in 1592, examiner of bishops in 1598, and Cardinal in 1599. Immediately after his appointment as Cardinal, Pope Clement made him a Cardinal Inquisitor, in which capacity he served as one of the judges at the trial of Giordano Bruno, and concurred in the decision which condemned Bruno to be burned at the stake as a heretic.
Upon the death of Pope Sixtus V in 1590, the Count of Olivares wrote to King Philip III of Spain, "Bellarmine … would not do for a Pope, for he is mindful only of the interests of the Church and is unresponsive to the reasons of princes." In 1602 he was made archbishop of Capua. He had written against pluralism and non-residence of bishops within their dioceses. As bishop he put into effect the reforming decrees of the Council of Trent.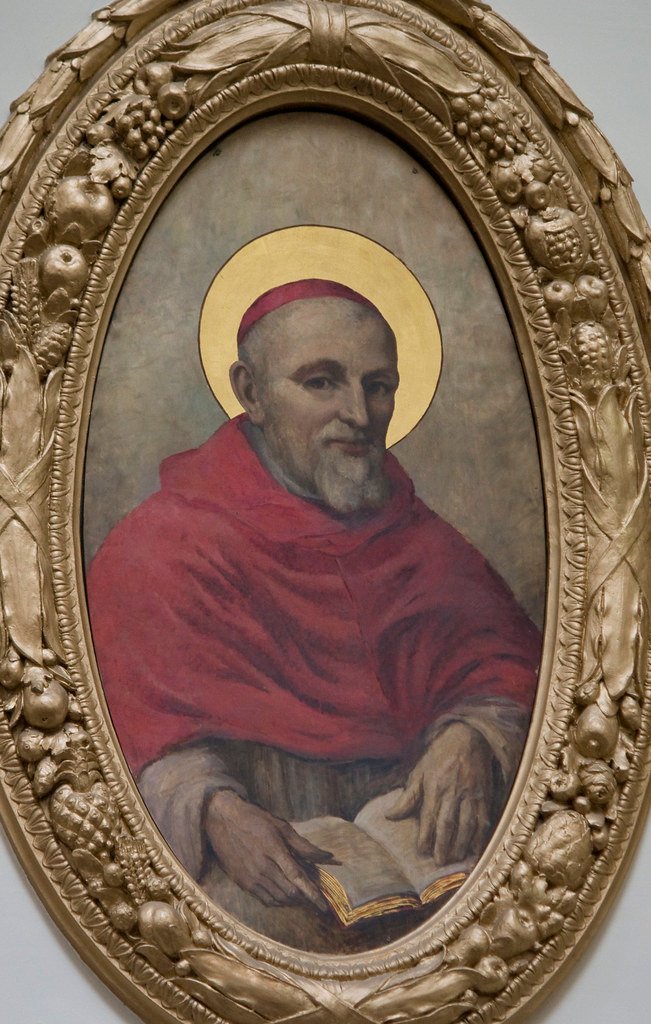 He received some votes in the 1605 conclaves which elected Pope Leo XI, Pope Paul V, and in 1621 when Pope Gregory XV was elected, but his being a Jesuit counted against him in the judgement of many of the cardinals. Thomas Hobbes saw Bellarmine in Rome at a service on All Saints Day (1 November) 1614 and, exempting him alone from a general castigation of cardinals, described him as "a little lean old man" who lived "more retired".
According to some of his letters, Cardinal Bellarmine believed that a demonstration for heliocentrism by Galileo could not be found because it would contradict the unanimous consent of the Fathers' scriptural exegesis, to which the Council of Trent, in 1546, defined all Catholics must adhere. In other passages, Bellarmine argued that he did not support the heliocentric model for the lack of evidence of the time ("I will not believe that there is such a demonstration, until it is shown to me").
In 1616, on the orders of Paul V, Bellarmine summoned Galileo, notified him of a forthcoming decree of the Congregation of the Index condemning the Copernican doctrine of the mobility of the Earth and the immobility of the Sun, and ordered him to abandon it. Galileo agreed to do so.
When Galileo later complained of rumours to the effect that he had been forced to abjure and do penance, Bellarmine wrote out a certificate denying the rumours, stating that Galileo had merely been notified of the decree and informed that, as a consequence of it, the Copernican doctrine could not be "defended or held".
Unlike the previously mentioned formal injunction, this certificate would have allowed Galileo to continue using and teaching the mathematical content of Copernicus's theory as a purely theoretical device for predicting the apparent motions of the planets. In 1633, nearly twelve years after Bellarmine's death, Galileo was again called before the Inquisition in this matter. Galileo produced Bellarmine's certificate for his defense at the trial.
According to Pierre Duhem and Karl Popper "in one respect, at least, Bellarmine had shown himself a better scientist than Galileo by disallowing the possibility of a "strict proof" of the earth's motion, on the grounds that an astronomical theory merely "saves the appearances" without necessarily revealing what "really happens." Philosopher of science Thomas Kuhn, in his book, The Copernican Revolution, after commenting on Cesare Cremonini, who refused to look through Galileo's telescope, wrote:
Most of Galileo's opponents behaved more rationally. Like Bellarmine, they agreed that the phenomena were in the sky but denied that they proved Galileo's contentions. In this, of course, they were quite right. Though the telescope argued much, it proved nothing. Bellarmine retired to Sant'Andrea degli Scozzesi, the Jesuit college of Saint Andrew in Rome. He died on 17 September 1621, aged 78.
Bellarmine was canonized by Pope Pius XI in 1930;[32] the following year he was declared a Doctor of the Church. His remains, in a cardinal's red robes, are displayed behind glass under a side altar in the Church of Saint Ignatius, the chapel of the Roman College, next to the body of his student, Aloysius Gonzaga, as he himself had wished. In the General Roman Calendar Saint Robert Bellarmine's feast day is on 17 September, the day of his death; but some continue to use pre-1969 calendars, in which for 37 years his feast day was on 13 May. The rank assigned to his feast has been "double" (1932–1959), "third-class feast" (1960–1968), and since the 1969 revision "memorial".
PRAYER
O Lord, You blessed St. Robert Bellarmine with great wisdom and learning. May we, like him, use well the double gifts of faith and reason.
May we grow in understanding our faith, diligence in living it, compassion in our service toward those in need, and in all things, grow toward ever-greater love of You. Through Our Lord Jesus Christ. Amen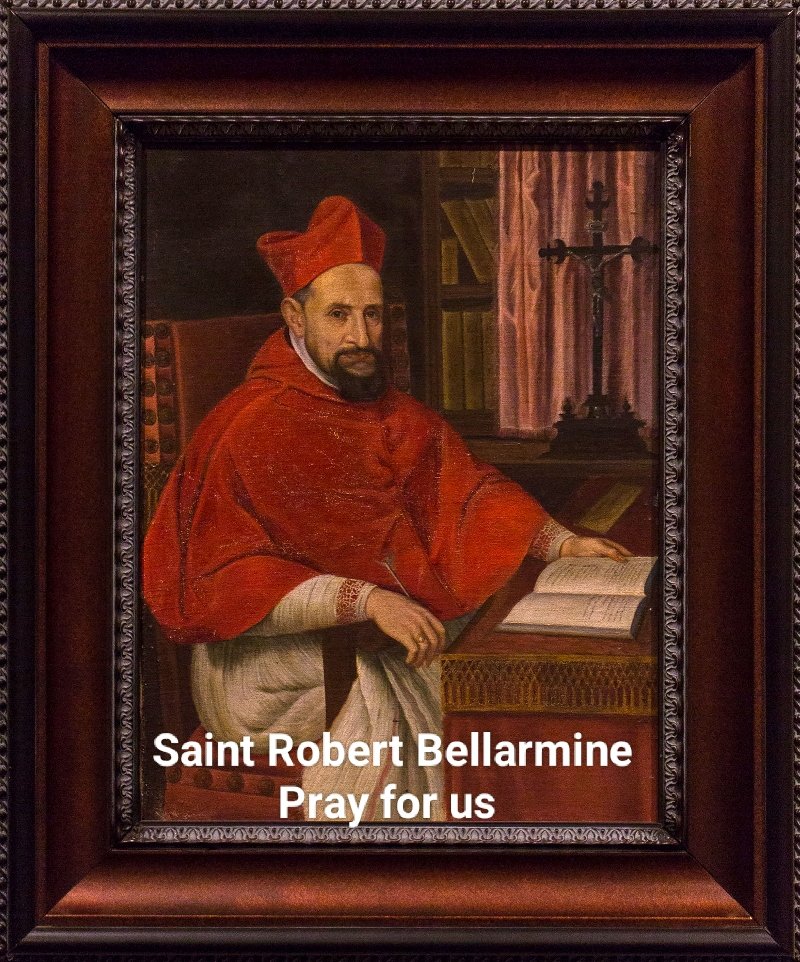 ======================================================================
ALSO CELEBRATING
FEAST OF SAINT HILDEGARD OF BINGEN – 17 SEPTEMBER 
Benedictine Abbess and Doctor of the Church (1098-1179)
HER LIFE 
+ Hildegard was educated by the anchoress Blessed Jutta. As other women joined Jutta, a community of nuns developed and the sisters chose to adopt the Rule of St. Benedict as their rule of life. Hildegard officially joined this community when she was 15 years old.
+ At the age of 32, Hildegard began to experience visions and private revelations and, in 1136, she succeeded Jutta as abbess.
+ Encouraged by Blessed Pope Eugene III and Saint Bernard of Clarivaux, Hildegard began to dictate and artistically render her visions, creating what would come to be known as the Scivias.
+ Sometime between 1147 and 1152, she established a new community at Bingen. From this base, she counseled and corrected a number of political and church leaders.
+ Saint Hildegard died in 1179 and is celebrated for her poems, hymns, plays, as well as works on medicine and natural history.
+ In 2012, Pope Benedict XVI proclaimed Hildegard a Doctor of the Church.
FOR PRAYER AND REFLECTION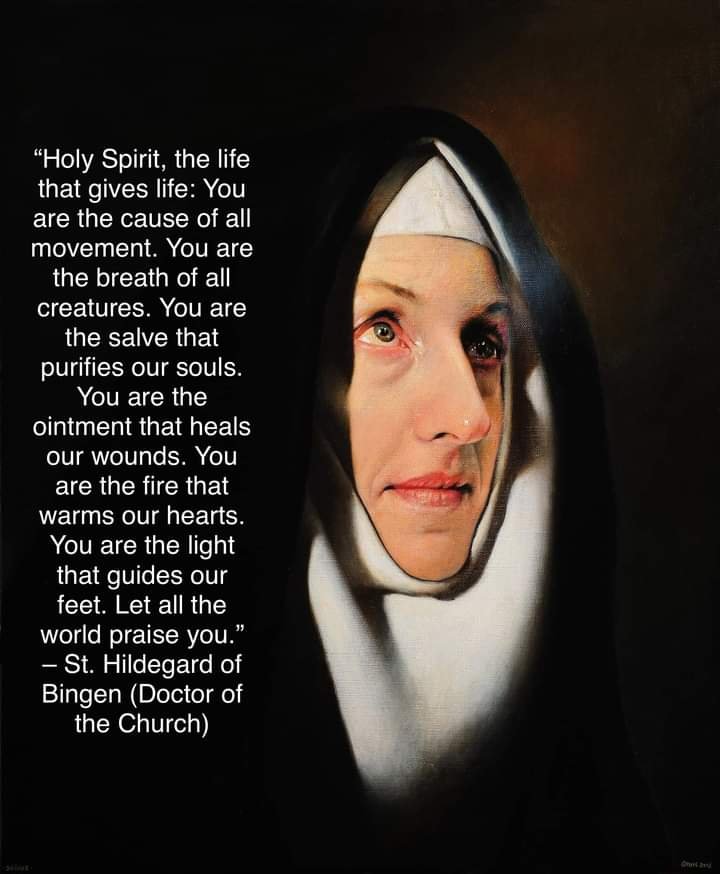 "The spiritual life must be tended with great dedication. At first the effort is burdensome because it demands the renunciation of caprices of the pleasures of the flesh and of other such things.
But if she lets herself be enthralled by holiness a holy soul will find even contempt for the world sweet and lovable."—Saint Hildegard of Bingen
SPIRITUAL BONUS 
On September 17 we also remember Blessed Leonella Sgorbati. A member of the Consolata Mission Sisters, she trained as a nurse and was sent to her community's missions in Kenya and, later, in Somalia. Sister Leonella was murdered with her guard and Muslim driver near the hospital in Mogadishu where she was serving on September 17, 2006. She was beatified by Pope Francis in 2018.
PRAYER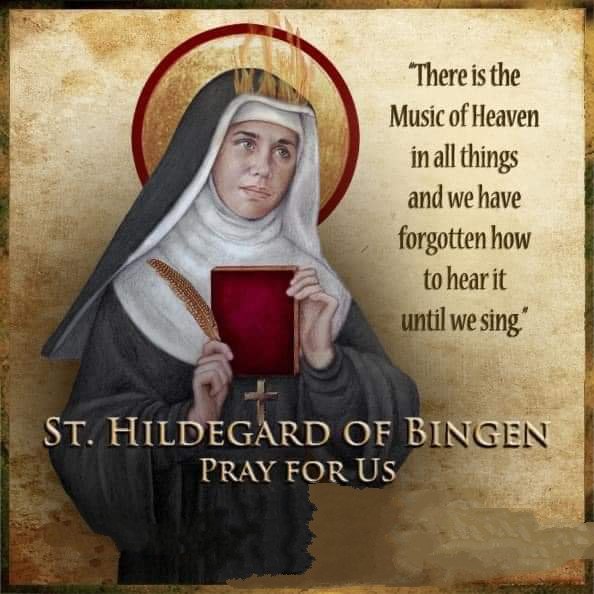 O God, by whose grace your servant Hildegard, kindled with the Fire of your love, became a burning and shining light in your Church.
Grant that we also may be aflame with the spirit of love and discipline, and walk before you as children of light; through Jesus Christ our Lord, who lives and reigns with you, in the unity of the Holy Spirit, one God, now and for ever. Amen.
Saint Hildegard of Bingen, pray for us.
(from Holy Women, Holy Men)
Saint profiles prepared by Brother Silas Henderson, S.D.S.