FEAST OF SAINT BERNARD OF CLAIRVOUX, ABBOT AND DOCTOR OF THE CHURCH 
FEAST DAY – 20th AUGUST
Bernard of Clairvaux, O. Cist. (1090 – 20 August 1153), venerated as Saint Bernard, was a Burgundian abbot and a major leader in the revitalization of Benedictine monasticism through the nascent Cistercian Order. He was sent to found Clairvaux Abbey at an isolated clearing in a glen known as the Val d'Absinthe, about 15 kilometres (9.3 mi) southeast of Bar-sur-Aube.
In the year 1128, Bernard attended the Council of Troyes, at which he traced the outlines of the Rule of the Knights Templar, which soon became an ideal of Christian nobility. On the death of Pope Honorius II in 1130, a schism arose in the church. Bernard was a major proponent of Pope Innocent II, arguing effectively for his legitimacy over the Antipope Anacletus II.
In 1139, Bernard attended the Second Council of the Lateran and criticized Peter Abelard vocally. Bernard advocated crusades in general and convinced many to participate in the unsuccessful Second Crusade, notably through a famous sermon at Vézelay. He traveled with an entourage, drew enormous crowds, was wildly popular, and called the cream of society his friends.
The details of Saint Bernard's life, though he lived before even Saint Francis of Assisi, the Magna Carta, and Dante, are abundantly documented. He was nearly as prolific a writer as Saint Augustine, but primarily via letters, not thick books. And these letters outline his character in sharp profile. He was intelligent, emotion laden, erudite, forceful, and contemplative.
He spoke and wrote poetically, beautifully, clearly, and deeply. Pope Pius XII called him "the last of the Fathers" of the Church. The death of his contemporaries served as a warning to Bernard of his own approaching end. The first to die was Suger in 1152, of whom Bernard wrote to Eugene III, "If there is any precious vase adorning the palace of the King of Kings it is the soul of the venerable Suger".
Conrad III and his son Henry died the same year. Bernard died at age sixty-three on 20 August 1153, after forty years of monastic life. He was buried at Clairvaux Abbey, and after its dissolution in 1792 by the French revolutionary government his remains were transferred to Troyes Cathedral.
Bernard's authentic and tender devotion to the Virgin Mary was expressed sublimely in his writings. The Queen of this mystical white rose he wrote about is the Virgin, and "faithful Bernard" gazes in silent admiration at the woman he loves so dearly. Saint Bernard was canonized just 21 years after his death by Pope Alexander III. In 1830 Pope Pius VIII declared him a Doctor of the Church.
PRAYER
Saint Bernard, may we see in your devotion to Mary, endless travels, strict life, and keen eye for beauty, the model of an educated and devoted monk.
Intercede for all religious, and for all those with a contemplative heart who are in the world, to love God half as well as you did.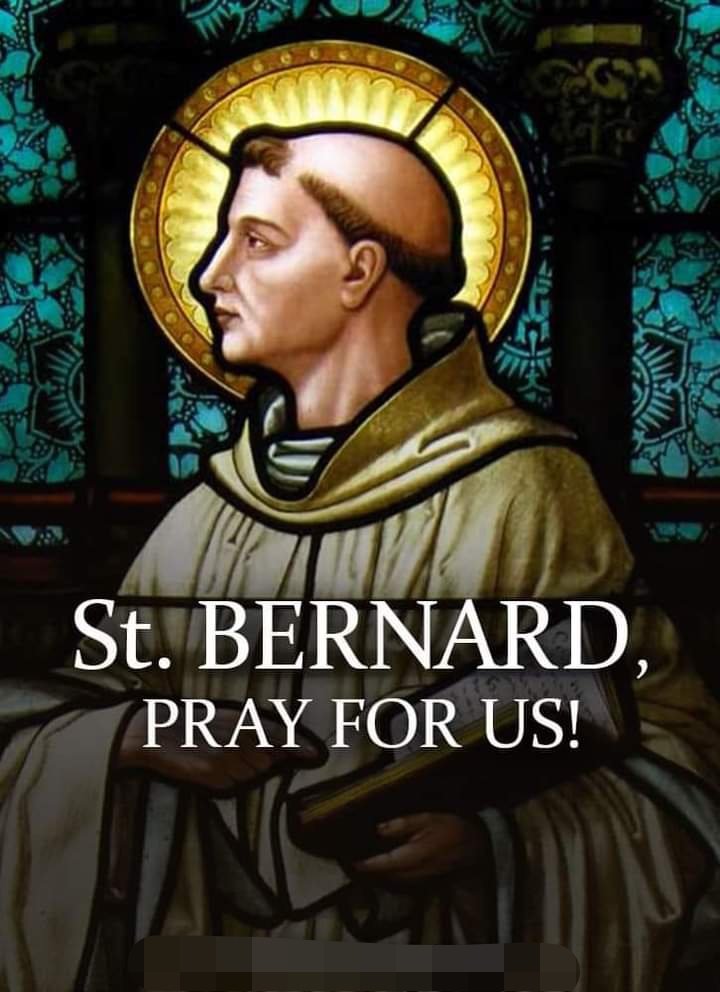 Saint Bernard of Clairvaux, pray for us.
(excerpts : mycatholiclife)