3 October, 2020
All this is from God, who reconciled us to himself through Christ and gave us the ministry of reconciliation: that God was reconciling the world to himself in Christ, not counting people's sins against them. And he has committed to us the message of reconciliation. 2 Corinthians 5:18–19
Heavenly Father, Author of our life and destiny, our Sustainer and Deliverer, by your perfect plan of redemption for ignoble mankind, you gave us preservation and purification and by Christ's sacrifice of atonement for our offenses you restored us to new life in Christ. This also brought us into communion and concord with you, as our Father and the God of our eternal salvation.
By granting us the grace of your Holy Spirit, you filled us with a new and pure spirit, taking us into your favor through our Mediator and Savior, Jesus Christ, whose sacrifice and intercession obtained for us reconciliation with you for all time.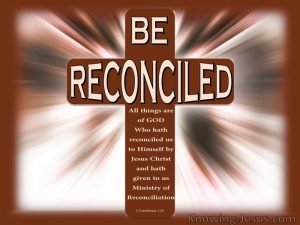 Jesus has entrusted to his gospel ministry the offering of reconciliation and peace with God to all mankind, ensuring these privileges to all the truly penitent that believe in Jesus. By freeing us from sin through forgiveness, we have Christ abiding in us and through him, we are in your adoption, Father, continuing Christ's mission as his ambassadors, commissioned to spread your Holy Word and gospel truth of love and forgiveness to all.
You have shown us your divinely tender mercies by acquitting us of our sins Almighty God and our eternal Judge, and by vouchsafing to shower us with abundant blessings unreservedly, you have transformed us to faithful allegiance and trust in your promises. We pray with sincere and contrite hearts to endeavor to merit justly, these rewards, through our Lord Jesus Christ. Amen