CATHOLIC MONTHLY DEVOTIONAL
THE MONTH OF MARCH IS DEVOTED TO SAINT JOSEPH
St. Joseph was of the royal family of David by birth, but was living in humble obscurity as a carpenter when God raised him to the highest sanctity, and chose him to be the spouse of His Virgin Mother, and foster-father and guardian to Jesus.
Joseph, says Holy Scripture, was a just man; he was innocent and pure, and became the husband of Mary, he was gentle and tender, as one worthy to be named the father of Jesus. When he learned that Mary carried within her womb the Lord of Heaven, he feared to take her as his wife, but an angel told him not to fear, and all doubts vanished.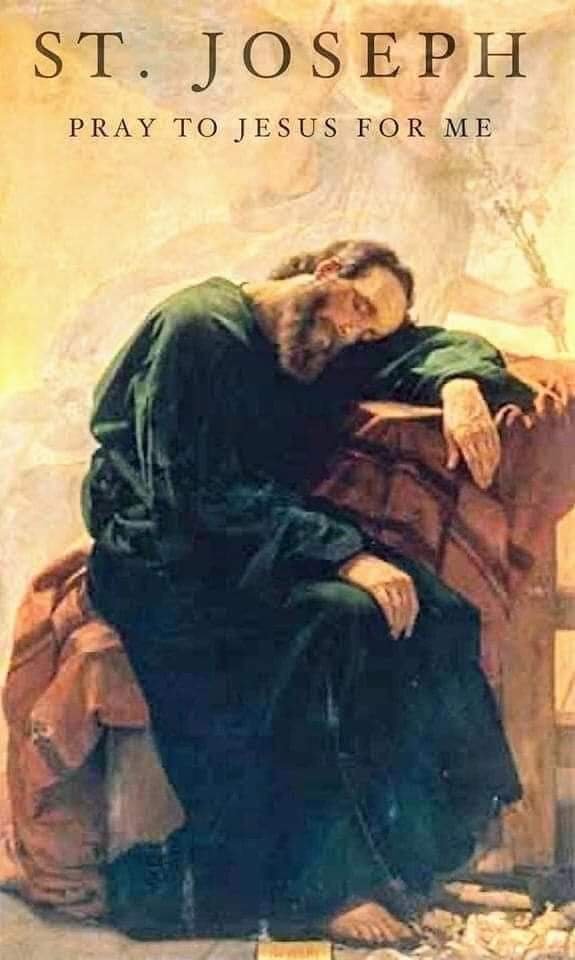 When Herod sought the life of the divine infant, an angel told Joseph in a dream to flee with the Child and His Mother into Egypt. Joseph at once arose and obeyed.
Being directed by God in another vision he returned to the land of Herod Antipas, in Galilee, to his former home in Nazareth. When Jesus was a little older Joseph and Mary found him in the temple after being missing for three days.
When Mary asked him why He had done this to them Jesus replied, "Did you not know that I must be about my Father's business"? Even though he stayed in the temple unknown to His parents, in the end He was still obedient to them. There is no further mention of St. Joseph in Scripture after this and he is presumed to have died before the marriage of Cana and the beginning of Jesus' ministry. We can imagine the happiness of Jesus and Mary attending to his death praying by him and comforting him in his last moments.
SAINT JOSEPH PRAYER
Psalm 91
He who dwells in the secret place of the Most High
Shall abide under the shadow of the Almighty.
I will say of the LORD, "He is my refuge and my fortress;
My God, in Him I will trust."
Surely He shall deliver you from the snare of the fowler
And from the perilous pestilence.
He shall cover you with His feathers,
And under His wings you shall take refuge;
His truth shall be your shield and buckler.
You shall not be afraid of the terror by night,
Nor of the arrow that flies by day,
Nor of the pestilence that walks in darkness,
Nor of the destruction that lays waste at noonday.
A thousand may fall at your side,
And ten thousand at your right hand;
But it shall not come near you.
Only with your eyes shall you look,
And see the reward of the wicked.
Because you have made the LORD, who is my refuge,
Even the Most High, your dwelling place,
No evil shall befall you,
Nor shall any plague come near your dwelling;
For He shall give His angels charge over you,
To keep you in all your ways.
In their hands they shall bear you up,
Lest you dash your foot against a stone.
You shall tread upon the lion and the cobra,
The young lion and the serpent you shall trample underfoot.
"Because he has set his love upon Me, therefore I will deliver him;
I will set him on high, because he has known My name.
He shall call upon Me, and I will answer him;
I will be with him in trouble;
I will deliver him and honor him.
With long life I will satisfy him,
And show him My salvation."
This prayer was found in the 50th year of Our Lord and Savior Jesus Christ. In 1505 it was sent from the Pope to Emperor Charles when he was going into battle. Whoever shall read this prayer or hear it or keep it about themselves, shall never die a sudden death, or be drowned, not shall poison take effect of them; neither shall they fall into the hands of the enemy; or shall be burned in any fire, or shall be overpowered in battle.
Say for nine mornings for anything you may desire. It has never been known to fail, so be sure you really want what you ask. Amen
Novena to Saint Joseph begins: March 10th
His Feast Day: March 19th
The meaning of his name: "He Shall Add"
Patron Saint of: Families, Carpenters, Married Couples, Laborers, House Seekers, The Universal Church, A Happy Death
ST. JOSEPH NOVENA PRAYER
Day 1
Let us begin, In the name of the Father, and of the Son, and of the Holy Spirit. Amen.
Oh, St. Joseph, whose protection is so great, so strong, so prompt before the throne of God. I place in you all my interests and desires…. (Mention your request here…)
Oh, St. Joseph, do assist me by your powerful intercession, and obtain for me from your divine Son all spiritual blessings, through Jesus Christ, our Lord. So that, having engaged here below your heavenly power, I may offer my thanksgiving and homage to the most loving of Fathers.
Oh, St. Joseph, I never weary of contemplating you, and Jesus asleep in your arms; I dare not approach while He reposes near your heart. Press Him in my name and kiss His fine head for me and ask him to return the Kiss when I draw my dying breath. St. Joseph, Patron of departing souls – Pray for me.
Say 1: Our Father…Say 1: Hail Mary…Say 1: Glory Be
(To be said for NINE DAYS, from 10th March to 18th March.) The Feast of Saint Joseph will be celebrated on 19th March.
PROMISES FOR MARCH THROUGH SCRIPTURE: 365 PROMISES
MARCH 1 – PROMISE #60
The earth belongs to Me and all that is in it.
Psalm 24:1
MARCH 2 – PROMISE #61
My throne will stand forever and justice will reign in My kingdom.
Psalm 45:6
MARCH 3 – PROMISE #62
The grass will dry up and flowers will fall, but My Word will endure forever.
1 Peter 1:24-25
MARCH 4 – PROMISE #63
Though the mountains vanish, My unending love will never leave you.
Isaiah 54:10
MARCH 5 – PROMISE #64
I have called you out of darkness into My glorious light.
1 Peter 2:9
MARCH 6 – PROMISE #65
I have chosen the weak things of this world to confound the strong.
1 Corinthians 1:27
MARCH 7 – PROMISE #66
I delight to reveal My kingdom to those with a childlike heart.
Matthew 11:25-26
MARCH 8 – PROMISE #67
I have brought you close through the blood of Christ.
Ephesians 2:13
MARCH 9 – PROMISE #68
Your old life has died and your new life is hid with Christ in Me.
Colossians 3:3
MARCH 10 – PROMISE #69
The same Spirit that raised Jesus from the dead will also give life to you.
Romans 8:11
MARCH 11 – PROMISE #70
I have blessed you in Christ with every heavenly blessing.
Ephesians 1:3
MARCH 12 – PROMISE #71
Commit all that you do to Me and your plans will be successful.
Proverbs 16:3
MARCH 13- PROMISE #72
I am with you and I will help you because I am your God.
Isaiah 41:10
MARCH 14 – PROMISE #73
I will never abandon you.
Hebrews 13:5
MARCH 15 – PROMISE #74
I see all your hardships and I care about your suffering.
Psalm 31:7
MARCH 16 – PROMISE #75
When you pass through turbulent waters, I will be close to you.
Isaiah 43:2
MARCH 17 – PROMISE #76
My anointing will teach you all you need to know.
1 John 2:27
MARCH 18 – PROMISE #77
If you live in My secret place, you will find rest under My shadow.
Psalm 91:1
MARCH 19 – PROMISE #78
I will give you My strength to help you stand in high places.
2 Samuel 22:33-34
MARCH 20 – PROMISE #79
Thousands may fall around you, but you will not be harmed.
Psalm 91:7
MARCH 21 – PROMISE #80
I provide food for the hungry and justice for the oppressed.
Psalm 146:7
MARCH 22 – PROMISE #81
My divine power will give you all you need to live a good life.
2 Peter 1:3
MARCH 23 – PROMISE #82
My mercy will overrule judgment.
James 2:13
MARCH 24 – PROMISE #83
I will cause all things to ultimately work for your good.
Romans 8:28
MARCH 25 – PROMISE #84
Humble yourself before Me and in time I will exalt you.
1 Peter 5:6
MARCH 26 – PROMISE #85
I have carved your name in the palms of My hands.
Isaiah 49:16
MARCH 27 – PROMISE #86
Never tire of doing good, for in time you will reap a harvest.
Galatians 6:9
MARCH 28 – PROMISE #87
An eternal crown awaits you at the finish line, so keep running your race.
1 Corinthians 9:24-25
MARCH 29 – PROMISE #88
I prepared a kingdom inheritance for you when I created the world.
Matthew 25:34
MARCH 30 – PROMISE #89
It is precious for Me to see My faithful ones come home.
Psalm 116:15
MARCH 31 – PROMISE #90
I will not forget My promises because I am a merciful God.
Deuteronomy 4:31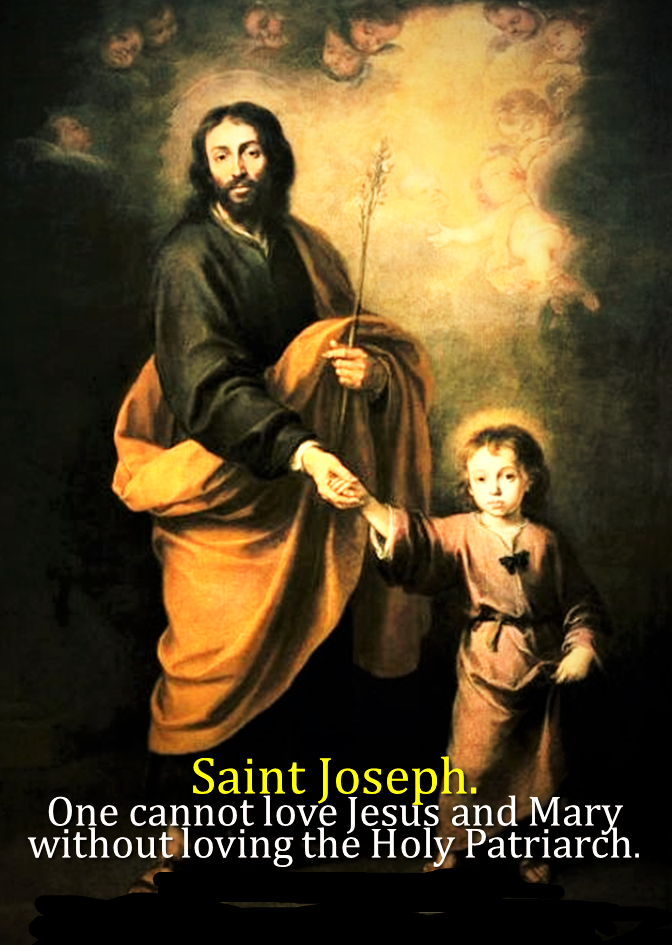 PRAYER
FOR OUR WORK
Glorious Saint Joseph, pattern of all who are devoted to toil, obtain for me the grace to toil in the spirit of penance, in order thereby to atone for my many sins; to toil conscientiously, putting devotion to duty before my own inclinations; to labor with thankfulness and joy, deeming it an honor to employ and to develop, by my labor, the gifts I have received from Almighty God; to work with order, peace, moderation, and patience, without ever shrinking from weariness and difficulties; to work above all with a pure intention and with detachment from self, having always before my eyes the hour of death and the accounting which I must then render of time ill-spent, of talents unemployed, of good undone, and of my empty pride in success, which is so fatal to the work of God. All for Jesus, all through Mary, all in imitation of thee, 0 Patriarch Joseph! This shall be my motto in life and in death. Amen.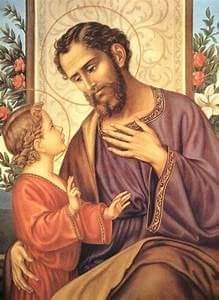 OFFERING TO SAINT JOSEPH
O great Saint Joseph, thou generous depositary and dispenser of immortal riches, behold us prostrate at thy feet, imploring thee to receive us as thy servants and as thy children. Next to the Sacred Hearts of Jesus and Mary, of which thou art the faithful copy, we acknowledge that there is no heart more tender, more compassionate than thine.
What, then, have we to fear, or, rather, for what should we not hope, if thou dost deign to be our benefactor, our master, our model, our father and our mediator? Refuse not, then, this favor, O powerful protector! We ask it of thee by the love thou hast for Jesus and Mary. Into thy hands we commit our souls and bodies, but above all the last moments of our lives.
May we, after having honored, imitated, and served thee on earth, eternally sing with thee the mercies of Jesus and Mary. Amen.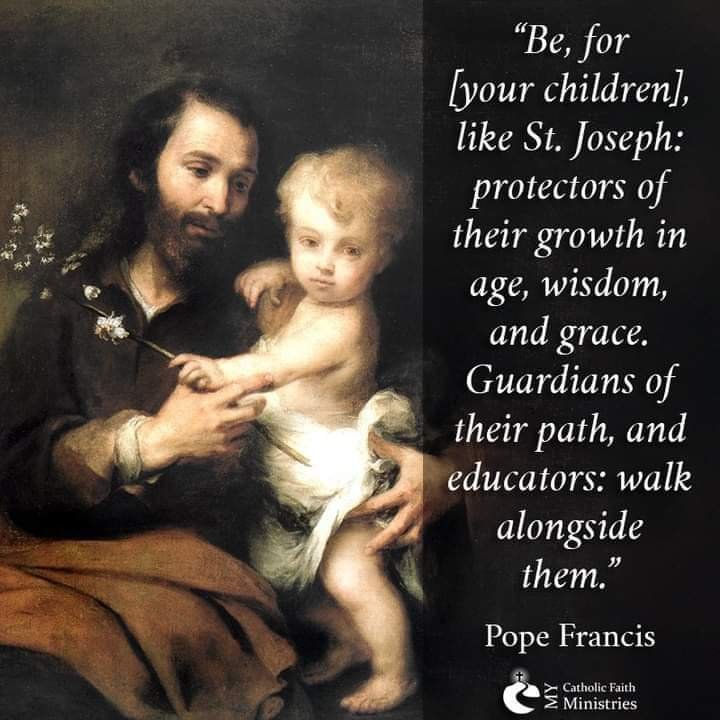 FOR THE INTERCESSION OF SAINT JOSEPH
O Joseph, virgin-father of Jesus, most pure spouse of the Virgin Mary, pray every day for us to the same Jesus, the Son of God, that we, being defended by the power of His grace and striving dutifully in life, may be crowned by Him at the hour of death.
Source: Prayer Book, The by Reverend John P. O'Connell, M.A., S.T.D. and Jex Martin, M.A., The Catholic Press, Inc., Chicago, Illinois, 1954
Source: https://www.catholicculture.org/culture/liturgicalyear/prayers/view.cfm?id=755
365 promises