FEAST OF BLESSED MICHAEL GIEDROYC
FEAST DAY – 4th MAY
Michał Giedroyć (1425 – 4 May 1485) was a Lithuanian Roman Catholic noble and brother of the Canons Regular of the Penitence of the Blessed Martyrs. Giedroyć did not have any great accomplishments, but his life followed Devotio Moderna, a movement calling for genuine pious practices such as humility, obedience, and simplicity of life.
Giedroyć was born to a noble family in the Grand Duchy of Lithuania. One of his feet was paralyzed and he had to use crutches when walking. He later became a religious in the Canons Regular of the Penitence of the Blessed Martyrs, an Augustinian order. In 1460, he moved to Kraków, Kingdom of Poland, where he received a university degree and remained until his death.
He lived an austere life as a hermit in a hut attached to the Church of St. Mark, Kraków, where he served as a sacristan. He practiced self-flagellation. He was said to have received a vision from Jesus Christ and to have the gift of prophesy. The cause for his canonization was launched sometime after his death and his relics were raised and enshrined in 1624.
However, the beatification stalled and was abandoned in the 17th century. The cause was revived in the 1980s and in 2001 he was recognized as a Servant of God. On 7 November 2018, Pope Francis authorized his equipollent beatification due to recognition of his longstanding local cultus (veneration).
Michaeł Giedroyć was born to the princely Giedroyć family of Lithuanian nobles. His year of birth is not known and is estimated based on his signature witnessing a donation by the Radziwiłł family to the Franciscans in Vilnius in 1439 – i.e. he had to be at least 15-years old. The Grand Duchy of Lithuania was officially converted to Catholicism only in 1387, making Giedroyć only the second generation to be baptized.
He suffered from frail health including lower than average height. A childhood accident left one of his feet paralyzed and he had to use crutches. Later examination of his remains revealed one of his legs was much shorter than the other. His disability likely influenced his later hermit tendencies and his devotion to crucified Christ. He did not want to be a burden and wanted to serve others.
Therefore, he started making boxes (most likely from wood) for the Eucharist that could be brought to the sick in their homes. He joined the Canons Regular of the Penitence of the Blessed Martyrs, an Augustinian order that had a convent in Bystryca [be] in present-day Belarus. They wore a white robe with a symbol of a red heart in front and thus were known as the White Augustinians.
In 1460, together with the general superior of an Augustinian monastery and several other novices, he left for Kraków and the following year enrolled into the Jagiellonian University. He studied the liberal arts and graduated with a bachelor's degree in 1465. However, Lithuanian researcher Paulius Rabikauskas argued that the university records related to a different person by the same name.
After his studies, Giedroyć became a sacristan at the Church of St. Mark, Kraków. He received permission from his superiors to live as a hermit in a tiny hut attached to the church. He was not ordained as a priest and remained a religious brother helping clean, maintain, and decorate the church. He lived a reclusive and austere life and practiced mortifications and self-flagellation.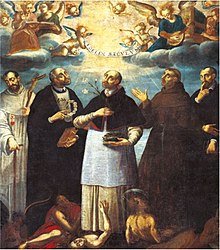 Attracted by his charism, people started seeking out Giedroyć for his advice and prayer as they believed that he could prophesy. He ate poorly, refusing meat and often fasting on bread and salt alone. He most frequently prayed to the crucifix and image of the Madonna.The image of the Madonna is now known as the Madonna Giedroyciowa or Matka Boska Giedroyciowa.
His prayers to Christ were so intense that he is said to have received a vision and heard Christ speak from the cross. According to a latter tradition, Christ spoke the words from the Revelation 2: Be faithful until death, and I will give you the crown of life. The crucifix now hangs in the main altar of the church.
Giedroyć died in 1485 and his remains were interred in the Church of Saint Mark. He was buried in the presbytery, on the left to the main altar. According to his hagiography, the divine message to bury him in such a prominent place was delivered by Świętosław Milczący.
The first mention of Giedroyć and his pious life comes from Chronica Polonorum written by Maciej Miechowita in 1519. A complete hagiography was written by Jan of Trzciana, a professor at the Jagiellonian University, in 1544. Published in 1605 in Latin and in 1615 in Polish, it remains the main source of information on Giedroyć's life.
There is evidence that there was an earlier manuscript written right after Giedroyć's death but it was lost in a church fire in 1494 or 1520. Researchers count five published biographies of Giedroyć in the 17th century, eight in the 18th century, and fourteen in the 19th century.
His grave was first opened in 1521 and his remains were found in good condition. The first known votive painting is from 1521. It was gifted by a city resident in gratitude for reviving her stillborn child and depicted the miracle. In 1614–1615, five soldiers of the Polish–Muscovite War (1605–1618) left votive paintings in gratitude for surviving the war.
His tomb was reopened again on 4 June 1624 and his relics were translated to a new sarcophagus suitable for public veneration on 11 August 1625. A late Renaissance tomb which survives to this day was built at the same time. In 1624, a large painting was completed depicting key scenes from Giedroyć's life. The central part depicts the key miracle – the message from the crucified Jesus.
In a window behind him, there are burning houses and people rushing away – a reference to the tradition confirmed by Miechowita that Giedroyć was a protector from fires. Twelve smaller scenes illustrate episodes from his life on the left and miracles attributed to him on the right. These episodes include the miraculous rescue of the church of St. Mark from a fire, satanic torture that Giedroyć experienced during his prayers, and prophesying to city residents.
His posthumous miracles include the message delivered by Świętosław Milczący regarding the proper burial place for Giedroyć, healing of Katarzyna Rybarka (she was a possessed woman and it was the first recorded posthumous miracle attributed to Giedroyć), saving two young boys from drowning (a son of a Hungarian merchant who drowned in the Danube and a boy in the village of Spytkowice), and reviving a stillborn child.
His cult continued to center in Poland and particularly Kraków, but also spread to Lithuania in the 17–18th centuries. Paintings of him can be found in churches of Videniškiai, Giedraičiai, and Tverečius. His paintings were mentioned in church records but do not survive in Veliuona, Jūžintai, and Papilys. The church in Videniškiai was founded by his relatives, voivode Martynas Marcelis Giedraitis and bishop Merkelis Giedraitis.
In 1617, Martynas Marcelis also founded a monastery of the Canons Regular of the Penitence in Videniškiai. The painting of Giedroyć originally hung in a chapel-mausoleum where members of the Giedroyć family were interned. In September 2019, a relic of Giedroyć was solemnly installed in the Church of the Assumption of the Blessed Virgin Mary, Vilnius, by Archbishop Gintaras Grušas.
A life of physical pain and mental torment didn't prevent Michael Giedroyc from achieving holiness. Michael suffered from physical and permanent handicaps from birth. He was a dwarf who had the use of only one foot. Because of his delicate physical condition, his formal education was frequently interrupted. But over time, Michael showed special skills at metalwork. He created sacred vessels, including chalices.
Though he knew the meaning of suffering throughout his years, his rich spiritual life brought him consolation. Michael's long life ended in 1485 in Kracow. Five hundred years later, Pope John Paul II visited the city and spoke to the faculty of the Pontifical Academy of Theology. The 15th century in Kracow, the pope said, was "the century of saints." Among those he cited was Blessed Michael Giedroyc.
PRAYER
Please watch over all of those with physical and mental handicaps Blessed Michael Giedroyc. May they take strength in your example to persevere through their difficulties. May we who are blessed with good health come to assist these individuals and act as Christ's light to them. Amen