FEAST OF SAINT DOMINIC DE GUZMAN
FEAST DAY – 8th AUGUST
Saint Dominic OP (Spanish: Santo Domingo; 8 August 1170 – 6 August 1221), also known as Dominic de Guzmán, was a Castilian Catholic priest founder of the Dominican Order and patron saint of astronomers. He is alternatively called Dominic of Osma, Dominic of Caleruega, and Domingo Félix de Guzmán.
Dominic was born in Caleruega, halfway between Osma and Aranda de Duero in Old Castile, Spain. He was named after Saint Dominic of Silos. The Benedictine abbey of Santo Domingo de Silos lies a few miles north of Caleruega. In the earliest narrative source, by Jordan of Saxony, Dominic's parents are not named. The story is told that before his birth his barren mother made a pilgrimage to the Abbey at Silos, and dreamt that a dog leapt from her womb carrying a flaming torch in its mouth, and seemed to set the earth on fire.
This story is likely to have emerged when his order became known, after his name, as the Dominican order, Dominicanus in Latin and a play on words interpreted as Domini canis: "Dog of the Lord." Jordan adds that Dominic was brought up by his parents and a maternal uncle who was an archbishop. The failure to name his parents is not unusual, since Jordan wrote a history of the Order's early years, rather than a biography of Dominic.
A later source, still of the 13th century, gives their names as Juana and Felix. Nearly a century after Dominic's birth, a local author asserted that Dominic's father was "vir venerabilis et dives in populo suo" ("an honoured and wealthy man in his village"). The travel narrative of Pero Tafur, written circa 1439 (about a pilgrimage to Dominic's tomb in Italy), states that Dominic's father belonged to the family de Guzmán, and that his mother belonged to the Aça or Aza family. Dominic's mother, Joan of Aza, was beatified by Pope Leo XII in 1829.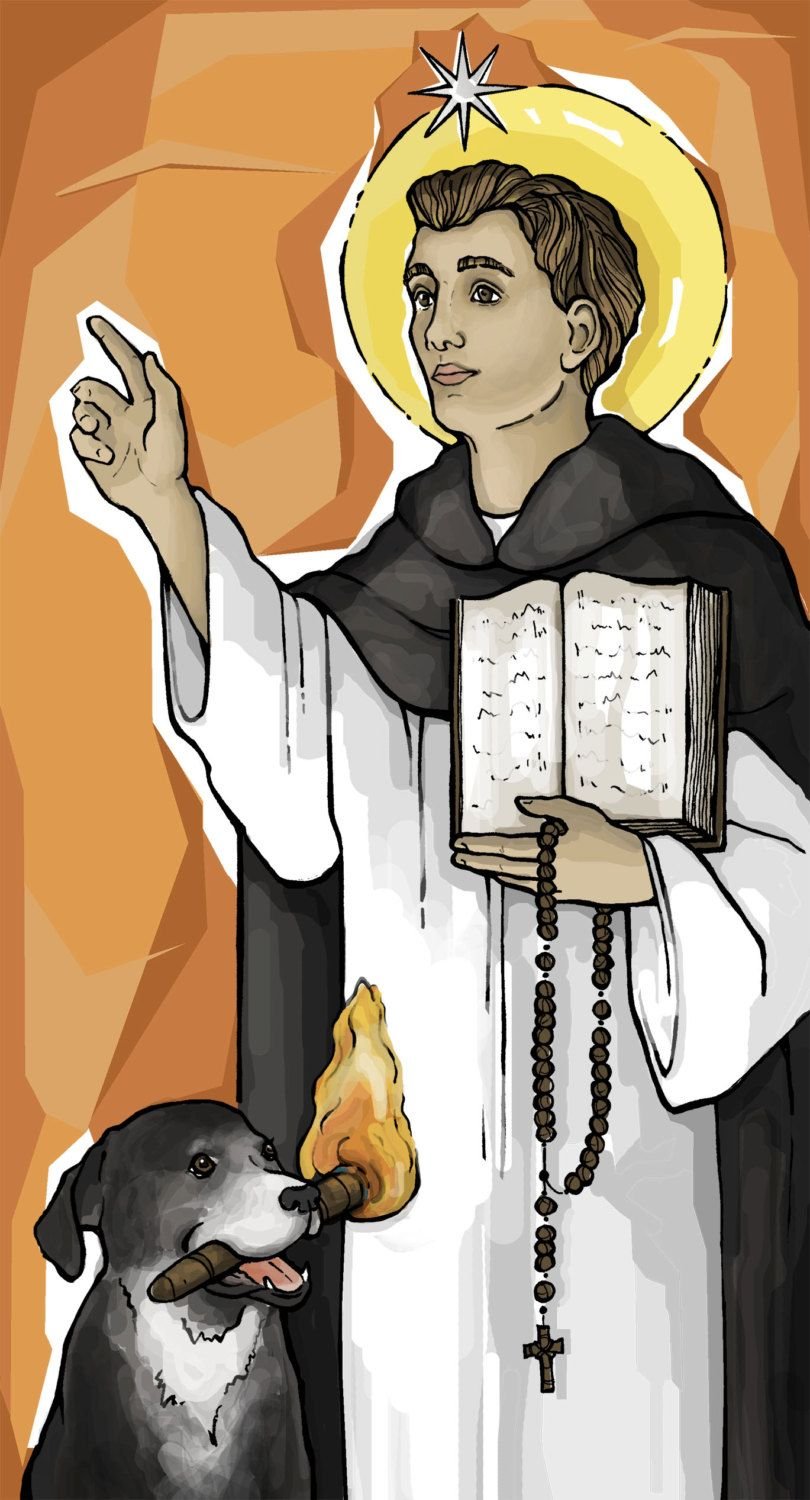 Dominic is commonly but apocryphally associated with the Inquisition. Historical sources from Dominic's own time period reveal nothing about his involvement in the Inquisition. Dominic died in 1221, and the office of the Inquisition was not established until 1231 in Lombardy and 1234 in Languedoc.
Canon 27 of the Third Council of the Lateran of 1179 stressed the duty of princes to repress heresy and condemned "the Brabantians, Aragonese, Basques, Navarrese, and others who practice such cruelty toward Christians that they respect neither churches nor monasteries, spare neither widows nor orphans, neither age nor sex, but after the manner of pagans, destroy and lay waste everything".
This was followed in 1184 by a decretal of Pope Lucius III, Ad abolendam. This decreed that bishops were to investigate the presence of heresy within their respective dioceses. Practices and procedures of episcopal inquisitions could vary from one diocese to another, depending on the resources available to individual bishops and their relative interest or disinterest.
Convinced that Church teaching contained revealed truth, the first recourse of bishops was that of persuasio. Through discourse, debates, and preaching, they sought to present a better explanation of Church teaching. This approach often proved very successful. In 1231, Pope Gregory IX appointed a number of Papal Inquisitors, mostly Dominicans and Franciscans, for the various regions of Europe.
As mendicants, they were accustomed to travel. Unlike the haphazard episcopal methods, the papal inquisition was thorough and systematic, keeping detailed records. This tribunal or court functioned in France, Italy and parts of Germany and had virtually ceased operation by the early fourteenth century.
In the 15th century, the Spanish Inquisition commissioned the artist Pedro Berruguete to depict Dominic presiding at an auto da fé. Thus, the Spanish inquisitors promoted a historical legend for the sake of auto-justification. Reacting against the Spanish tribunals, 16th- and 17th-century Protestant polemicists gladly developed and perpetuated the legend of Dominic the Inquisitor.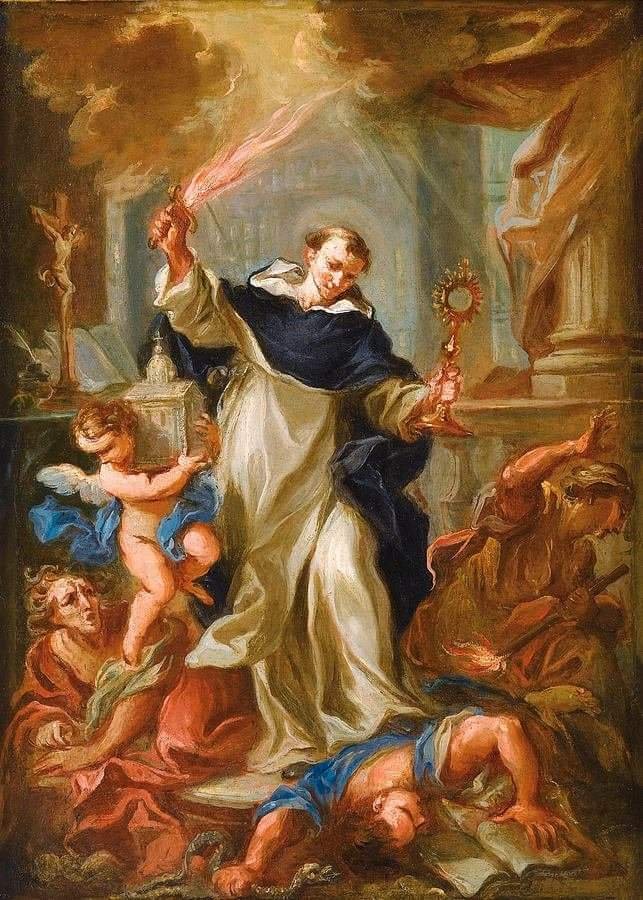 This image gave German Protestant critics of the Catholic Church an argument against the Dominican Order whose preaching had proven to be a formidable opponent in the lands of the Reformation. As Edward Peters notes, "In Protestant historiography of the sixteenth century a kind of anti-cult of St. Dominic grew up." The spread of the Rosary, a Marian devotion, is attributed to the preaching of Dominic.
For centuries the Rosary has been at the heart of the Dominican Order. Pope Pius XI stated, "The Rosary of Mary is the principle and foundation on which the very Order of Saint Dominic rests for making perfect the life of its members and obtaining the salvation of others." For centuries, Dominicans have been instrumental in spreading the Rosary and emphasizing the Catholic belief in The Power of the Rosary.
The feast of Saint Dominic is celebrated with great pomp and devotion in Malta, in the old city of Birgu and the capital city Valletta. The Dominican order has very strong links with Malta and Pope Pius V, a Dominican friar himself, aided the Knights of St. John to build the city of Valletta.
PRAYER
God of Truth you bestowed upon your church a new light of Faith and Truth, in the person and preaching of Saint Dominic. Assist us to attain your favor and blessings by preaching yourHoly Wordand by leading holy and simple lives.
We ask this through our Lord Jesus Christ, your Son, who lives and reigns with you and the Holy Spirit, God, forever and ever. Amen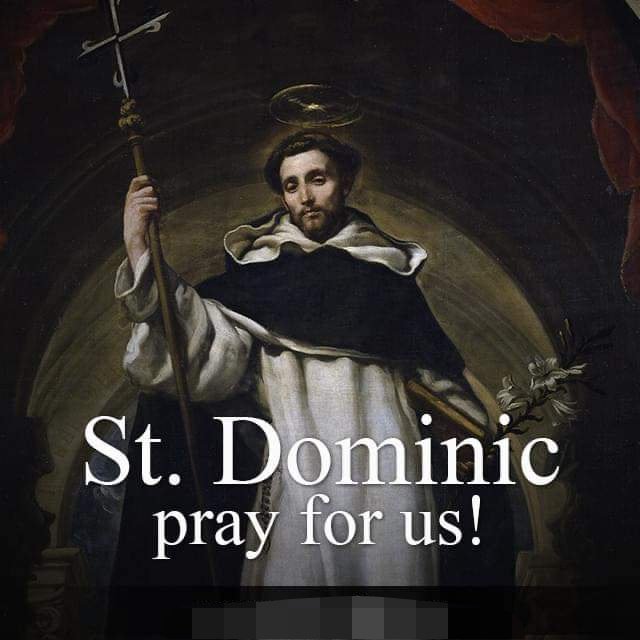 Saint Dominic, Pray for us.