FEAST OF SAINT HENRY II, HOLY ROMAN EMPEROR
FEAST DAY – 13th JULY
Henry II (6 May 973 – 13 July 1024), also known as Saint Henry the Exuberant, was a Holy Roman Emperor from 1014. He died without an heir in 1024, and was the last ruler of the Ottonian line. As Duke of Bavaria, appointed in 995, Henry became King of the Romans ("Rex Romanorum") following the sudden death of his second cousin, Emperor Otto III in 1002, was made King of Italy ("Rex Italiae") in 1004, and crowned emperor by Pope Benedict VIII in 1014.
Near the end of St. Peter's Basilica's central nave, embedded in the elaborate marble floor, is a large, deep red disk. It is porphyry, a rich purple granite prized by the emperors and nobles of Rome. This disk, harvested from an Egyptian quarry, was originally placed in a Roman home or public building. But the Emperor Constantine pilfered it.
He had the disk transplanted to near the main altar of the fourth-century basilica he built in honor of Saint Peter, and the disk has been preserved, in a different location, in the present sixteenth-century basilica. And on this lush granite disk numerous kings and emperors, including Charlemagne and today's saint, Henry II, humbly knelt to be crowned by popes.
Saint Henry made the long journey from Germany to Rome to be crowned Holy Roman Emperor by Pope Benedict XIII on February 14, 1014. Not just common men but kings too went on pilgrimage to Rome to seek Saint Peter's blessing. King Henry lived a life in many ways typical of the royals of his era. He was involved in nearly constant political maneuverings and military battles to protect and expand his kingdom.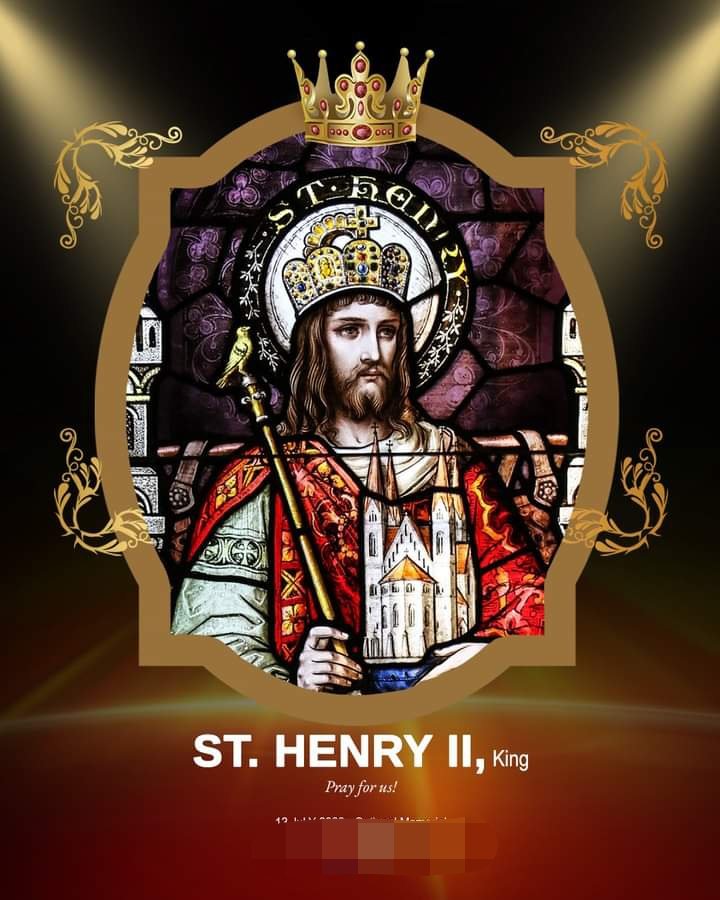 There were fights to attain power and fights to retain power. There were long military campaigns in Poland, Hungary, Germany, and Italy. There was court intrigue, a strategic but childless marriage, the envy of nobles, and all the other ingredients inherent to the struggle for power. But Henry is the only Holy Roman Emperor ever to be canonized a saint for a reason. He had deep faith.
He loved the Church. He lived the virtues to a heroic degree. He received the Sacraments. He was devoted to Saint Mary. Saint Henry was outstanding in utilizing his wealth and position to advance the apostolates of the institutional Church. He formed a new diocese, endowed others, founded monasteries, donated land, and had close relationships with powerful bishops.
Under his care, the church became an arm of the imperial government, with bishops of large dioceses even becoming princes wielding both civil and ecclesiastical power. This blurring of the lines between Church and State in Germany became problematic in later centuries when imperial officials tried to wrest church governance from the pope's hands and flexed their secular muscle in crushing heretics.
But under Saint Henry the mingling of church and state was mutually beneficial. It created a united love of fatherland and religion, of culture
and liturgy, of patriotism and faith, which lasted until the early sixteenth century throughout all of Germany and until the Napoleonic era in large swaths of it. The rich and powerful are subject to temptations just like the common man.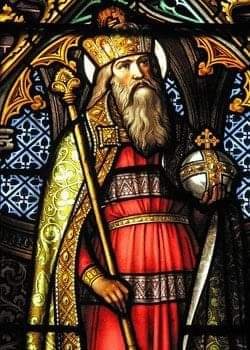 The sinful road not taken, the evil path that could have been trod but was not, is a cause for rejoicing for every man, but especially for the powerful man. Every soul can indulge in some legitimate Christian pride for what it has not done, for having conquered temptation and sin by strategically avoiding it. Many paths opened up before King Henry during his life. He walked the tight path of virtue and entered heaven by the narrow gate.
He thus exalted his royal status to one even higher, that of a saint. Henry II was canonized in July 1147 by Pope Eugenius III; his spouse, Cunigunde was canonized on 29 March 1200 by Pope Innocent III. His relics were carried on campaigns against heretics in the 1160s. He is the patron saint of the city of Basel, Switzerland, and of St Henry's Marist Brothers' College in Durban, South Africa.
Henry's name, which does not appear in the Tridentine Calendar, was inserted in 1631 in the Roman Calendar as a commemoration within the celebration of Saint Anacletus on 13 July, the day of his death and the traditional day for his celebration on a local level. In 1668, it was moved to 15 July for celebration as a Semidouble. This rank was changed by Pope Pius XII in 1955 to that of Simple, and by Pope John XXIII in 1960 to that of Third-Class Feast.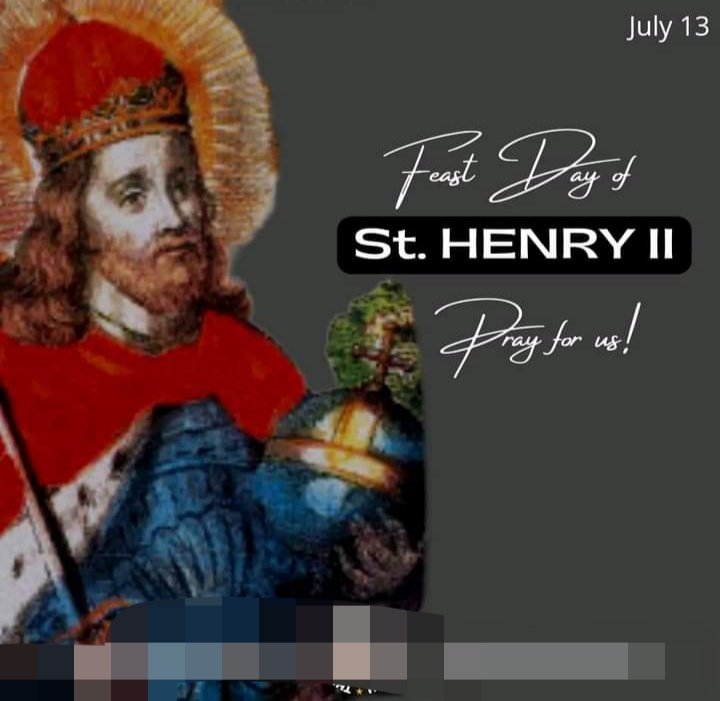 In 1969, it was returned to its original date of 13 July as an optional Memorial. During his lifetime, Henry II became an oblate of the Benedictine Order, and today is venerated within the Order as the patron saint of all oblates, along with St. Frances of Rome. Some online sources suggest that Henry is venerated as a Confessor in the Eastern Orthodox Church (either on 13 or 15 July).
Henry II was a member of the Ottonian dynasty of kings and emperors who ruled the Holy Roman Empire (previously Germany) from 919 to 1024. In relation to the other members of his dynasty, Henry II was the great-grandson of Henry I, great-nephew of Otto I, first-cousin once removed of Otto II, and a second-cousin to Otto III.
PRAYER
Saint Henry, you were an outstanding benefactor of the Church, living a life of sacrifice and generosity, to propagate the Christian faith. Though you enjoyed the privileges of monarchs, you lived a holy and virtuous life, choosing the straight and narrow path from your earthly to the heavenly kingdom.
May your example help us all to be giving and caring, in every way, to advance our faith and Christlike fervor, for others to follow by conversion. Amen