FEAST OF SAINT LOUISE DE MARILLAC
FEAST DAY – 15th MARCH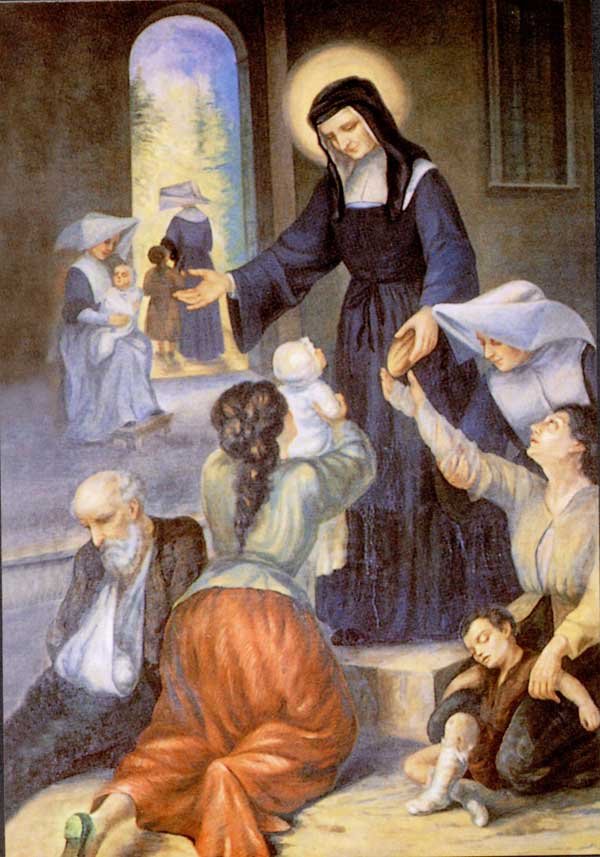 Louise de Marillac was born probably at Ferrieres-en-Brie near Meux, France, on August 12, 1591. She never knew her mother. Louis de Marillac, Lord of Ferrires (1556 -1604), claimed her as his natural daughter, yet not his legal heir. She was nevertheless excellently cared for and educated by the Dominican nuns at Poissy. Louis was a member of the prominent de Marillac family and was a widower at the time of Louise's birth.
Her uncle, Michel de Marillac, was a major figure in the court of Queen Marie de' Medici and, though Louise was not a member of the Queen's court, she lived and worked among the French aristocracy. When her father married his new wife, Antoinette Le Camus, she refused to accept Louise as part of their family. Thus Louise grew up amid the affluent society of Paris, but without a stable home life.
Around the age of fifteen, Louise felt drawn to the cloistered life. She later made application to the Capuchin nuns in Paris but was refused admission. It is not clear if her refusal was for her continual poor health or other reasons, but her spiritual director assured her that God had "other plans" for her. On the advice of her confessor, she married Antony LeGras, an official in the Queen's service. Louise and Antony were wed in the fashionable Church of St. Gervaise on February 5, 1613.
In October, the couple had their only child, Michel. Louise grew to love Antony and was an attentive mother to their son. Along with being devoted to her family, Louise was also active in ministry in her parish. She had a leading role in the Ladies of Charity, an organization of wealthy women dedicated to assisting those suffering from poverty and disease. During civil unrest, her two uncles who held high rank within the government were imprisoned.
One was publicly executed, and the other died in prison. Around 1621, Antony contracted a chronic illness and eventually became bedridden. Louise nursed and cared for him and their child. In 1623, when illness was wasting Antony, depression was overcoming Louise. In addition, she suffered for years with internal doubt and guilt for having not pursued the religious calling she had felt as a young woman.
Louise wrote her own "Rule of Life in the World" that detailed a structure for her day. Time was set aside for reciting the Little Office of the Blessed Virgin Mary, attending Mass, receiving Holy Communion, meditation, spiritual reading, fasting, penance, reciting the rosary and special prayers. Still, Louise managed to maintain her household, entertain guests and nurture Michel, her 13 year son, with special needs.
She was fortunate to have a wise and sympathetic counsellor, Francis de Sales, then in Paris, and then his friend, the bishop of Belley. She vowed not to remarry if her husband died before her. She also believed that she had received the insight that she would be guided to a new spiritual director whose face she was shown. When she happened to meet Vincent de Paul, she recognized him as the priest from her vision. After Antony's death in 1625, St. Vincent de Paul, became her spiritual adviser.
At first, he was reluctant to be her confessor, as he was busy with his Confraternities of Charity. Members were aristocratic ladies of charity, who were helping him nurse the poor and look after neglected children, a real need of the day, but the ladies were busy with many of their own concerns and duties. His work needed many more helpers, especially ones who were peasants and so would be closer to the poor and also who could teach and organize them.
Over the next four years, Vincent and Louise often met and communicated by letters. Vincent guided Louise to a greater balance in a life of moderation, peace and calm. In 1629, Vincent invited Louise to become involved in his work with the Confraternities of Charity. She found great success in these endeavors. In 1632, Louise made a spiritual retreat. Her intuition led her to understand that it was time to intensify her ministry with poor and needy persons. Louise, now forty-two years old, communicated this objective to Monsieur Vincent.
She devoted the rest of her life to working with him. She helped direct his Ladies of Charity in their work of caring for the sick, the poor, and the neglected. In 1633 she set up a training center, of which she was Directress in her own home, for candidates seeking to help in her work. This was the beginning of the Sisters (or Daughters, as Vincent preferred) of Charity of St. Vincent de Paul (though it was not formally approved until 1655). She took her vows in 1634 and attracted great numbers of candidates.
She wrote a rule for the community, and in 1642, Vincent allowed four of the members to take vows. Formal approval placed the community under Vincent and his Congregation of the Missions, with Louise as Superior. She traveled all over France establishing her Sisters in hospitals, orphanages, and other institutions. By the time of her death in Paris on March 15, the Congregation had more than forty houses in France.
Louise led the Company of Daughters until her death. Nearing her death, she wrote to her nuns: "Take good care of the service of the poor. Above all, live together in great union and cordiality, loving one another in imitation of the union and life of our Lord. Pray earnestly to the Blessed Virgin, that she might be your only Mother". Louise de Marillac died six months before the death of her dear friend and mentor, Vincent de Paul, at the age of 68.
The nuns have always been held in high repute and have made foundations in all parts of the world. Since then, they have spread all over the world. She was canonized by Pope Pius XI in 1934, and was declared Patroness of Social Workers by Pope John XXIII in 1960. Her remains are enshrined in the chapel of the motherhouse of the Daughters of Charity at 140 rue du Bac, Paris.
She is mistakenly referred to as an incorrupt saint; the body enshrined in the chapel is a wax effigy, containing her bones. Louise de Marillac is honored with a Lesser Feast on the liturgical calendar of the Episcopal Church in the United States of America on March 15. Her Patronage is for Christian Social Workers, disappointing children, loss of parents, people rejected by religious orders, sick people, Vincentian Service Corps and widows.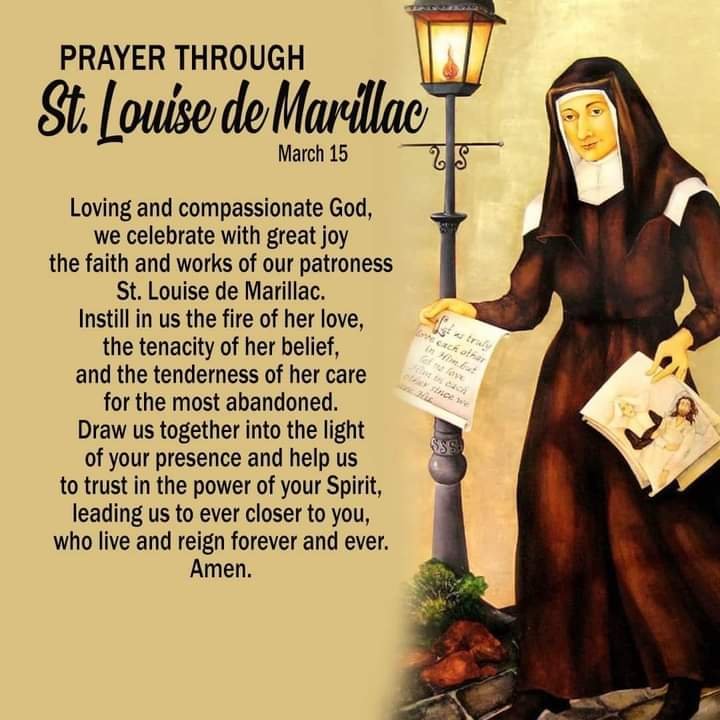 PRAYER
Loving and compassionate God, we celebrate with great joy the faith and works of our patroness St. Louise de Marillac. Instill in us the fire of her love, the tenacity of her belief, and the tenderness of her care for the most abandoned.
Draw us together into the light of your presence and help us to trust in the power of your Spirit, leading us ever closer to you, who live and reign forever and ever. Amen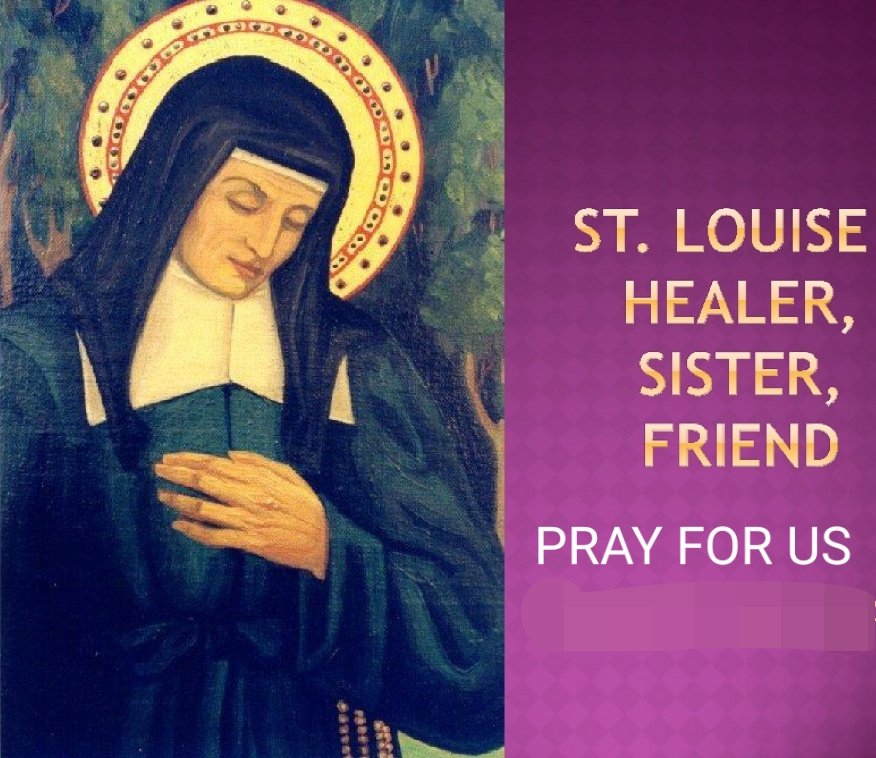 Saint Louise de Marillac, as wives, mothers, teachers, nurses, social workers, you stand as a model for all women.
Help us work in humble submission and dedication towards raising decent, God-fearing and responsible individuals, to labor for God's Kingdom. Amen