FEAST OF SAINT MARK THE EVANGELIST
FEAST DAY – 25th APRIL
Mark the Evangelist is the person who is traditionally ascribed to be the author of the Gospel of Mark. According to Church tradition, Mark founded the episcopal see of Alexandria, which was one of the five most important sees of early Christianity. His feast day is celebrated on April 25, and his symbol is the winged lion.
Much of what we know about St. Mark, the author of the Second Gospel, comes largely from the New Testament and early Christian traditions. Mark the Evangelist is believed to be the 'John Mark' referred to in the Acts of the Apostles, the history of the early Church, in the Canon of the New Testament.
He was the son of Mary of Jerusalem (Acts 12:12) whose home became a meeting place for the apostles. He is also the cousin of St. Barnabas (Colossians 4:10), a Levite and a Cypriot. Mark joined St. Paul and St. Barnabas on their first missionary journey to Antioch in 44 A.D. When the group reached Cyprus, Christian tradition holds that Mark left them and returned to Jerusalem, possibly because he was missing his home (Acts 13:13).
This incident may have caused Paul to question whether Mark could be a reliable missionary. This created a disagreement between Paul and Barnabas and led Paul to refuse Mark's accompaniment on their second journey to the churches of Cilicia and the rest of Asia Minor.
According to William Lane (1974), an "unbroken tradition" identifies Mark the Evangelist with John Mark, and John Mark as the cousin of Barnabas. However, Hippolytus of Rome in On the Seventy Apostles distinguishes Mark the Evangelist (2 Tim 4:11), John Mark (Acts 12:12, 25; 13:5, 13; 15:37), and Mark the cousin of Barnabas (Col 4:10; Phlm 1:24). According to Hippolytus, they all belonged to the "Seventy Disciples" who were sent out by Jesus to disseminate the gospel (Luke 10:1ff.) in Judea.
According to Eusebius of Caesarea, Herod Agrippa I, in his first year of reign over the whole of Judea (AD 41), killed James, son of Zebedee and arrested Peter, planning to kill him after the Passover. Peter was saved miraculously by angels, and escaped out of the realm of Herod (Acts 12:1–19). Peter went to Antioch, then through Asia Minor.
He then, visiting the churches in Pontus, Galatia, Cappadocia, Asia, and Bithynia, as mentioned in 1 Peter 1:1, arrived in Rome in the second year of Emperor Claudius (AD 42; Eusebius, Eccl, Hist. 2.14.6). Somewhere on the way, Peter encountered Mark and took him as travel companion and interpreter. Mark wrote down the sermons of Peter, thus composing the Gospel according to Mark, before he left for Alexandria in the third year of Claudius (AD 43).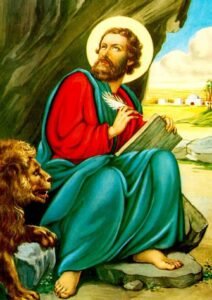 According to the Acts 15:39, Mark went to Cyprus with Barnabas after the Council of Jerusalem. However, it can be assumed the troubles between Paul and Mark did not last long, because when Paul was first imprisoned, Mark, who was at the time in Rome with plans of visiting Asia Minor, visited him as one of his trusted companions (Col 4:10).
Mark's hopes to visit Asia Minor were most likely carried out, because during Paul's second captivity and just before his martyrdom, Paul wrote to Timothy at Ephesus advising him to "take Mark and bring him with you [to Rome], for he is profitable to me for the ministry" (2 Timothy 4:11). If Mark returned to Rome at this time, he was probably there when Paul was martyred.
According to Christian tradition, Mark also held a close relationship with St. Peter, who referred to Mark as 'his son' in his letter addressed to a number of churches in Asia Minor (1 Peter 5:13). Clement of Alexandria, Irenaeus and Papias all indicate that Mark was an interpreter for Peter.
Although Papias states Mark had not personally heard the Lord speak firsthand and, like Luke, Mark was not one of the twelve apostles, some believe Mark was likely speaking of himself when he wrote the description of Jesus' arrest in Gethsemani. "Now a young man followed him wearing nothing but a linen cloth about his body. They seized him, but he left the cloth behind and ran off naked" (Mark 14:51-52).
St. Mark lived for years in Alexandria, where he died as a martyr while being dragged through the streets. Mark's Gospel was probably written between 60 and 70 A.D., and was based upon the teachings of St. Peter. It is believed Mark provided both Luke and Matthew with basic sources for their Gospels.
He was probably the first bishop of Alexandria, Egypt and the founder of the Church of Alexandria, although he is not mentioned in connection to the city by either Clement of Alexandria or by Origen. In 828, relics of St. Mark were stolen from Alexandria and taken to Venice, Italy. There they are enshrined in a beautiful cathedral dedicated to him.
St. Mark's symbol is a winged lion. This is believed to be derived from his description of St. John the Baptist, as "a voice of one crying out in the desert" (Mark 1:3). The wings come from Ezekiel's vision of four winged creatures as the evangelists. He is often depicted as writing or holding his Gospel. He is sometimes shown as a bishop on a throne or as a man helping Venetian sailors.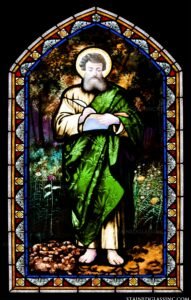 St. Mark is the patron saint of Venice. His feast day is celebrated on April 25.
According to tradition, in AD 49, about 19 years after the Ascension of Jesus, Mark travelled to Alexandria and founded the Church of Alexandria – today, the Coptic Orthodox Church, the Greek Orthodox Church of Alexandria, and the Coptic Catholic Church trace their origins to this original community.
Aspects of the Coptic liturgy can be traced back to Mark himself. He became the first bishop of Alexandria and he is honored as the founder of Christianity in Africa. According to Eusebius (Eccl. Hist. 2.24.1), Mark was succeeded by Anianus as the bishop of Alexandria in the eighth year of Nero (62/63), probably, but not definitely, due to his coming death. Later Coptic tradition says that he was martyred in 68.
Some modern Bible scholars argue the Gospel of Mark was written by an anonymous author, rather than direct witnesses to the reported events. Evidence for Mark the Evangelist's authorship of the Gospel that bears his name originates with Papias. Scholars of the Trinity Evangelical Divinity School are "almost certain" that Papias is referencing John Mark. Modern mainstream Bible scholars discard Papias's information as unreliable.
Identifying Mark the Evangelist with John Mark also led to identifying him as the man who carried water to the house where the Last Supper took place (Mark 14:13), or as the young man who ran away naked when Jesus was arrested (Mark 14:51–52). The Coptic Church accords with identifying Mark the Evangelist with John Mark, as well as that he was one of the Seventy Disciples sent out by Christ (Luke 10:1), as Hippolytus confirmed.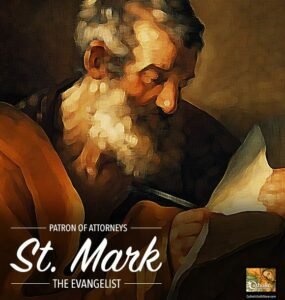 Coptic tradition also holds that Mark the Evangelist hosted the disciples in his house after Jesus's death, that the resurrected Jesus Christ came to Mark's house (John 20), and that the Holy Spirit descended on the disciples at Pentecost in the same house. Furthermore, Mark is also believed to have been among the servants at the Marriage at Cana who poured out the water that Jesus turned to wine (John 2:1–11).
According to the Coptic tradition, Mark was born in Cyrene, a city in the Pentapolis of North Africa (now Libya). This tradition adds that Mark returned to Pentapolis later in life, after being sent by Paul to Colossae (Colossians 4:10; Philemon 24. Some, however, think these actually refer to Mark the Cousin of Barnabas), and serving with him in Rome (2 Tim 4:11); from Pentapolis he made his way to Alexandria.
When Mark returned to Alexandria, the pagans of the city resented his efforts to turn the Alexandrians away from the worship of their traditional gods. In AD 68, they placed a rope around his neck and dragged him through the streets until he was dead. The Feast of St Mark is observed on April 25 by the Catholic and Eastern Orthodox Churches.
Where John Mark is distinguished from Mark the Evangelist, John Mark is celebrated on September 27 (as in the Roman Martyrology) and Mark the Evangelist on April 25. Mark is remembered in the Church of England and in much of the Anglican Communion, with a Festival on 25 April.
PRAYER
Lord Jesus, you are our Saviour, our hope and our life. Thank you for watching over us as we learn and pray. Thank you for our patron, Saint Mark, and his gospel narrations. His words about you show us how to be respectful, loving and peaceful. Please be with us in all we do​, so that we make choices that honor you. We ask this, in your Name. Amen

O Glorious St. Mark, through the grace of God, our Father, you became a great Evangelist, preaching the Good News of Christ. May you help us to know Him well so that we may faithfully live our lives as followers of Christ. Amen