FEAST OF SAINT POPE PIUS V
FEAST DAY – 30th APRIL
Saint Pius V is buried in the Sistine Chapel, but not THE Sistine Chapel. His body lies in a glass coffin in the stunning, baroque, Sistine Chapel of the Basilica of Saint Mary Major in Rome. He is not far from other luminaries: the master artist Gianlorenzo Bernini is buried unassumingly in the floor nearby, and Saint Jerome's remains are found in a porphyry tomb under the main altar.
Saint Pius was from a poor but noble family in Northern Italy and baptized Antonio Ghislieri. He entered the Dominican Order as a teenager and quickly rose to positions of authority and responsibility due to his intelligence, discipline, unassailable purity of life, and defense of the Church.
He was elected Pope in 1566. The Council of Trent had just concluded. The Counter-Reformation was so new it did not even have a name. The Muslim Turks were invading Europe from the East. Protestants occupied chunks of Northern Europe and were cracking the unity of the Church in France. In a truncated papacy of six years and four months, Saint Pius V rose to all of these challenges and more, leaving an enduring legacy disproportionate to his brief reign.
Saint Pius marshalled the coalition of Catholic princes and monarchs who defeated the Turks at the battle of Lepanto in 1571. A loss would have opened the front door of Europe for Muslims to walk right in and make it their home. In 1570, Pius V excommunicated Queen Elizabeth I of England for heresy and schism, called her a pretender to the throne, and forbade Catholics to obey her.
This led the Queen to seek the blood of English Catholics for treason. As momentous as these events were, and they each cast long and dark historical shadows, it was specifically as a churchman that Saint Pius V did his best work. He personally lived the reforms he expected of the Church as a whole, and he implemented those reforms first in the city of Rome itself, among his own ecclesial court and among his own people.
The Council of Trent met intermittently between 1545–1563. It was arguably the most successful Council in the history of the Church. Trent introduced numerous reforms that have long since been accepted as normative Church practice: a bishop must live in his diocese, priestly formation must occur in a seminary, the Mass must be said using a uniform language and ritual, a catechism must be published and its teachings learned by all, and religious and priests cannot easily skip from one diocese to another.
The Council also clarified technical, and not so technical, questions of Catholic theology in the face of Protestant challenges. The Council's documents were not put on a shelf to gather dust. Trent's immense treasure house of doctrinal, liturgical, and disciplinary reforms were implemented, fully and forcefully, over many succeeding decades. This was due to the perseverance and vision of many Counter-Reformation bishops, priests, nuns, and scholars, beginning with Saint Pius V himself.
Saint Pius V is considered an icon of orthodoxy (correct teaching) and orthopraxy (correct practice). It is an unfortunate truism of modernity that religious faith, submission to religious truth, or trust in a prior intellectual inheritance (as opposed to personal discovery of "truth") are limiting forces which stunt personal growth, shield the believer from reality, or block more daring inquiry. A more honest perspective disproves these snide conclusions.
Doubt, refusal, or negation are not necessarily open-minded pathways to discovery. It is acceptance, affirmation, and faith that open the mind to the widest horizons. It is "Yes," not "No," that leads to more complex and demanding relationships, including with God Himself. The orthodox believer makes no a priori decision to shut his eyes to the fullness of reality, in contrast to the atheist. The believer is open, truly open, to diverse arguments and experiences.
Defenders of orthodoxy, like St. Pius V, have far more complex understandings of human anthropology and religion than commonly acknowledged. Conservatives are more intuitive anthropologists than liberals. They know how fragile truth can be when under pressure, and they take their job to protect it with utmost seriousness. Saint Pius V was the Pope, or Father, of a universal family. He protected the family's unity with all his considerable skills and virtues, and left a highly united, disciplined Church as his legacy.
PRAYER
Saint Pius V, your dedication to the truth showed itself in your pristine holiness, unity of life, and defense of doctrine. From your home in heaven, assist all theologians and leaders of the Church to be as concerned as you were for the unity of God's family on earth.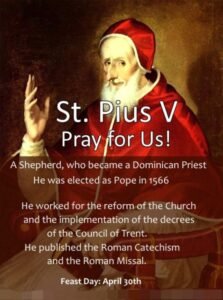 Saint Pius V, pray for us all.