FEAST OF SAINT ALBERT THE GREAT
FEAST DAY – 15th NOVEMBER
A great doctor of the Church, Albertus Magnus was born in Germany, and studied at the University of Padua, where he learned about Aristotle and his writings and was received into the Dominican Order by Blessed Jordan of Saxony. In around 1223, Albert experienced a vision of our Blessed Virgin Mary, which moved him, and prompted him to become a member of the Dominican Order, whereafter he studied theology. He was the first German Dominican friar to receive the degree of Master of Theology.
Albert, an excellent student, at the Dominicans at Cologne, traveled and gained international acclaim. He did much to introduce the authentic writings of Aristotle to western thought and pioneered the use of the inductive method, his original research. St. Albert's efforts to understand creation were ordered toward a deeper knowledge of the Creator. Everything from astronomy to zoology fascinated St. Albert, and he was considered an authority on biology, physics, astronomy, geography, mineralogy, and chemistry. Perhaps St. Albert's view of nature can be summed up in words attributed to him: "The whole world is theology for us, for the heavens proclaim the glory of God."
Called 'The Universal Genius', St. Albert wrote on matters that extended beyond the natural sciences to philosophy and theology. Being true to the Dominican charism of teaching as a form of preaching, St. Albert was a teacher eager to share the pursuit of knowledge with his students. Much to his delight, St. Thomas Aquinas, his most brilliant pupil, became his colleague and even surpassed him in some areas of study.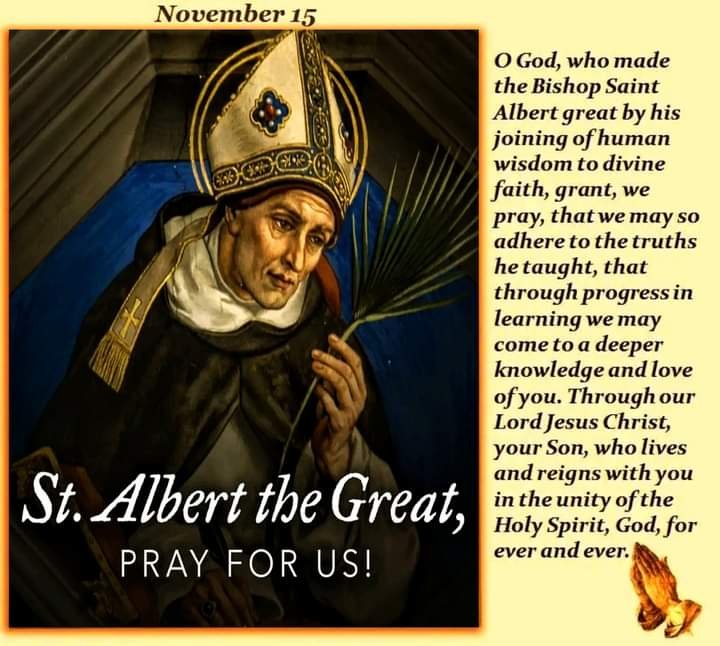 Albert participated in the General Chapter of the Dominicans along with Thomas Aquinas and several other contemporary leaders of the Order, from where arose the Pontifical University of Saint Thomas Aquinas, in Rome. Today, the university which is known as the "Angelicum," is one of the foremost theological colleges in the world. It is still run by the Dominican order. Albert 'a mediator', mediated disputes between individuals as well as resolving a dispute between the people of Colonge and their bishop. He also founded Germany's oldest university in that city.
Before his death, he mourned the early passing of his great student, Thomas Aquinas, who would later be recognized as a saint and doctor of the Church. After his own death due to illness, Albert was beatified in 1622 by Pope Gregory XV and canonized and recognized as a doctor of the Church in 1931, by Pope Pius IX. He left behind a treasury of 38 books on many different subjects. The Church honors Albert as both, saint and Doctor, or great teacher, of our faith and priests, Church officials, professors, students, and even kings of his time gave Albert the nickname "the Great." He is the Patron Saint of Scientists, Philosophers, and Medical Technicians.
PRAYER
God, You made St. Albert great, by enabling him to combine human wisdom and Divine Faith. Help us so to adhere to his teaching that we may progress in the sciences and at the same time come to a deeper understanding and love of you.
May we too view progress according to his interpretation, as increasing the glory of our God, for you are the seat of infinite wisdom and knowledge. We make this prayer in the Name of Jesus our Lord. Amen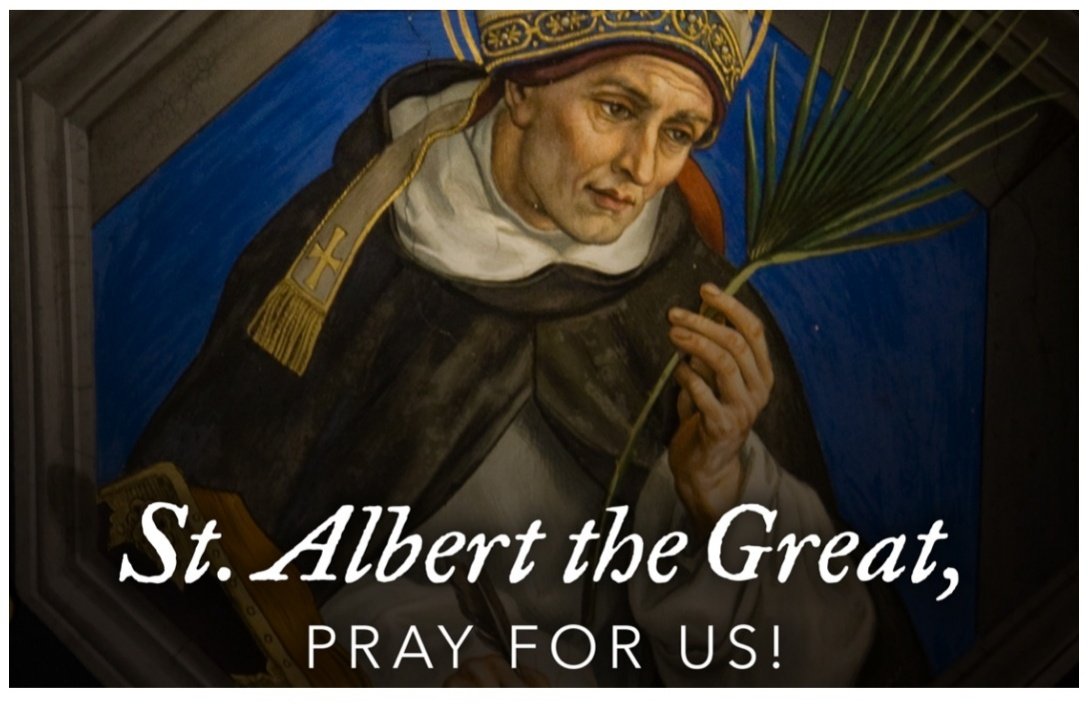 Saint Albert the Great, pray for us.