FEAST OF SAINT AUGUSTA OF TREVISO, VIRGIN AND MARTYR
FEAST DAY – 27th MARCH
Saint Augusta of Treviso, also known as Augusta of Ceneda, Augusta of Tarvisium, or Augusta of Serravalle, is venerated as a virgin martyr. Her Acts were written in the 16th century by Minuccio Minucci di Serravalle, who was secretary to Pope Clement VIII and Protonotary apostolic. According to her legendary Acts, Augusta was the daughter of Matrucus, pagan chief of the Alemanni, who had conquered the Friulians, who had been Christianized, and ruled over them.
Augusta converted to Christianity secretly. Her father, chief Matrucus, suspecting that the Christian Friulians were influencing his daughter with their faith, sent spies to watch her day and night. The spies returned and confirmed his worst fears. She had indeed become Christian and had been caught praying at night. In a fit of rage, he had her arrested. Viciously, he and his men beat her, yelling at her to recant her faith and return to their ways.
Between blows she struggled to pray to Christ, refusing to recant. Her enraged father then tortured and kicked Saint Augusta so hard that he knocked out all of her teeth. Through crying eyes, she held on in prayer. He eventually decapitated her with his sword at Serravalle, a district of the present-day Vittorio Veneto, around 100 AD.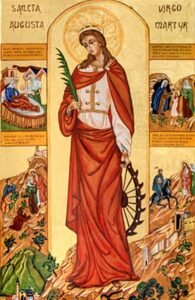 Her name is listed in Ferrarius' Catalogue of Saints, but not in the Roman Martyrology. 1 August was the day in which the translation of her relics was celebrated, and 22 August the invention (discovery) of her relics, but the main feast day is 27 March. Her relics are said to have been found a few years after her death on the hill called Santa Augusta after her, which overlooks Serravalle.
A church dedicated to her was built in the 5th century. St. Augusta is depicted with the symbols of her Martyrdom, a toothed wheel for torture, her teeth that were torn from her mouth, and her palm. On the hill of St Augusta, there are still the remains of the castle of her grim father Matruco, and the large Church dedicated to her. She is patron of Ceneda, Italy.
PRAYER
O God, who gladden us today with the annual commemoration of Blessed Augusta, graciously grant that we may be helped by her merits, just as our lives are lit up by the splendor of her example of chastity and fortitude.
Through our Lord Jesus Christ, your Son, who lives and reigns with you in the unity of the Holy Spirit, one God, for ever and ever. Amen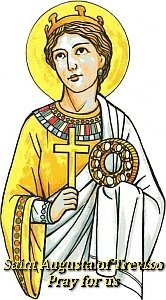 Saint Augusta of Treviso, pray for us.