FEAST OF SAINT CATHERINE LABOURÉ
FEAST DAY – 28th NOVEMBER
Catherine Labouré (May 2, 1806 – December 31, 1876) was a French nun and a member of the Daughters of Charity, Saint Vincent de Paul. She had visions of the Blessed Virgin Mary who conveyed to her the message to create the famous Miraculous Medal of Our Lady of Graces which is worn by millions of people around the world. Labouré spent several years indedication of the aged and infirm, and is thus called the patroness of the information and elderly and of the Miraculous Medal. .
She was born on May 2, 1806, in the Burgundy region of France to Pierre Labouré, a farmer, and Madeleine Louise Gontard, and was the 9th of 11 children. Labouré's mother died on October 9, 1815, when she was just nine years old. It is said that after her mother's funeral, Labouré picked up a statue of the Blessed Virgin Mary and kissed it, saying, "Now you will be my mother."
Her aunt offered to care for her and her sister Marie Antoinette, so the sisters moved to their aunt's house, Saint-Rémy, a village 9 kilometres from their home. It is there that Catherine had a dream of a priest, whom she later recognised as Vincent de Paul. The priest said to her: 'My daughter, it is good to care for the sick. For now, you flee from me, but one day you will be glad to approach me. God has plans for you. Don't forget it!'.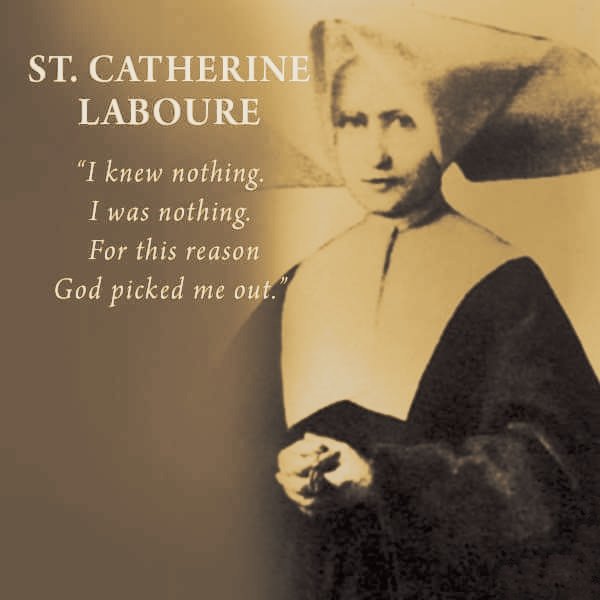 When she turned 12, Catherine returned to her father's farm to help care for her family. Her father, wishing to stop her from following her religious vocation, sent her to Paris to work in his brothers' eating establishment for poor workers. When she saw their suffering, it made her more resolute to enter the nursing order of Saint Vincent de Paul, the Daughters of Charity. She began her novitiate on April 21, 1830 at the convent on the rue du Bac in Paris and on, January 30, 1831, she took her vows. It was here that she had the visions of the Virgin Mary that led to the creation of the Miraculous Medal.
Immediately after she took her vows, Labouré was sent to the Hospice d'Enghien, located in the village of Reuilly, slightly outside the city limits of Paris and spent the next forty years there, caring for the elderly and infirm. During this time, she not only cared for the sick, but worked on the hospice's farm, looking after the poultry and the stables. Her life was notable for her devotion to the poor and elderly and for her humility and profound silence.
Labouré died in the Hospice on December 31, 1876 at the age of 70. Her body was later moved and is now encased in glass beneath the side altar in the Chapel of Our Lady of Graces of the Miraculous Medal in Paris.Her cause for sainthood was declared upon discovery that her body was incorrupt. She was beatified on May 28, 1933 by Pope Pius XI and canonized on July 27, 1947 by Pope Pius XII. Her feast day is observed on November 28.
PRAYER
Dear Lord, we thank You for giving us Your servant, St. Catherine Laboure, as an example of holiness. Help us to imitate the love of You she showed throughout her life, from the time of her loss-filled childhood.
St. Catherine Laboure, you lost your mother when you were just nine years old. Though this must have been a very sad occasion for you, you chose to deal with your loss by increasing your devotion to the Blessed Virgin and beginning a life of service to God.
Please bring my petitions before God Whom you served throughout the rest of your life. Pray for us, that we may never allow suffering or sadness to deter us from serving God. Amen
St. Catherine Laboure, pray for us!