FEAST OF SAINT DAVID I OF SCOTLAND
FEAST DAY – 24th MAY
David I (1084 – 24 May 1153), was a 12th-century ruler who was Prince of the Cumbrians from 1113 to 1124 and later King of Scotland from 1124 to 1153. The youngest son of Malcolm III and Margaret of Wessex, David spent most of his childhood in Scotland, but was exiled to England temporarily in 1093. Perhaps after 1100, he became a dependent at the court of King Henry I.
There, he was influenced by the Anglo-French culture of the court.
When David's brother Alexander I died in 1124, David chose, with the backing of Henry I, to take the Kingdom of Scotland (Alba) for himself. He was forced to engage in warfare against his rival and nephew, Máel Coluim mac Alaxandair.
Subduing the latter seems to have taken David ten years, a struggle that involved the destruction of Óengus, Mormaer of Moray. David's victory allowed expansion of control over more distant regions theoretically part of his Kingdom. After the death of his former patron Henry I, David supported the claims of Henry's daughter and his own niece, Empress Matilda, to the throne of England.
He came into conflict with King Stephen and was able to expand his power in northern England, despite his defeat at the Battle of the Standard in 1138. The term "Davidian Revolution" is used by scholars to summarise the changes which took place in Scotland during his reign, including his foundation of burghs, regional markets, implementation of the ideals of Gregorian Reform, foundation of monasteries, Normanisation of the Scottish government, and introduction of feudalism through immigrant French and Anglo-French knights.
David was born on a date unknown in 1084 in Scotland. He was probably the eighth son of King Malcolm III, and certainly the sixth and youngest borne by Malcolm's second wife, Margaret of Wessex. He was the grandson of King Duncan I. In 1093, King Malcolm and David's brother Edward were killed at the River Aln during an invasion of Northumberland.
David and his two brothers, Alexander and Edgar, were probably present when their mother died shortly afterwards. According to later medieval tradition, the three brothers were in Edinburgh when they were besieged by their paternal uncle Donald III, who became king. It is not certain what happened next, but an insertion in the Chronicle of Melrose states that Donald forced his three nephews into exile, although he was allied with his nephews Edmund.
John of Fordun wrote, centuries later, that an escort into England was arranged for them by their maternal uncle Edgar Ætheling. King William Rufus of England opposed Donald's accession to the northerly kingdom. He sent the eldest son of Malcolm, David's half-brother Duncan, into Scotland with an army. Duncan was killed within the year, and so in 1097 William sent Donnchad's half-brother Edgar into Scotland. The latter was successful, and was crowned by the end of 1097.
During the power struggle of 1093–97, David was in England. In 1093, he may have been about nine years old. From 1093 until 1103 David's presence cannot be accounted for in detail, but he appears to have been in Scotland for the remainder of the 1090s. When William Rufus was killed, his brother Henry Beauclerc seized power and married David's sister, Matilda.
The marriage made David the brother-in-law of the ruler of England. From that point onwards, David was probably an important figure at the English court. Despite his Gaelic background, by the end of his stay in England, David had become a full-fledged Normanised prince. William of Malmesbury wrote that it was in this period that David rubbed off all tarnish of Scottish barbarity through being polished by interaction and friendship.
David's brother King Edgar had visited William Rufus in May 1099 and bequeathed to David extensive territory to the south of the river Forth. On 8 January 1107, Edgar died. His younger brother Alexander took the throne. David took control of his inheritance, the southern lands bequeathed by Edgar, soon after the latter's death. However, it cannot be shown that he possessed his inheritance until his foundation of Selkirk Abbey late in 1113.
According to Richard Oram, it was only in 1113, when Henry returned to England from Normandy, that David was at last in a position to claim his inheritance in southern Scotland. King Henry's backing seems to have been enough to force King Alexander to recognise his younger brother's claims. This probably occurred without bloodshed, but through threat of force nonetheless. David's aggression seems to have inspired resentment amongst some native Scots.
A Middle Gaelic quatrain from this period complains that:
"It's bad what Máel Coluim's son has done;,
dividing us from Alexander;
he causes, like each king's son before;
the plunder of stable Alba."
If "divided from" is anything to go by, this quatrain may have been written in David's new territories in southern Scotland. The lands in question consisted of the pre-1975 counties of Roxburghshire, Selkirkshire, Berwickshire, Peeblesshire and Lanarkshire. David, moreover, gained the title princeps Cumbrensis, "Prince of the Cumbrians", as attested in David's charters from this era.
Although this was a large slice of Scotland south of the river Forth, the region of Galloway-proper was entirely outside David's control. David may perhaps have had varying degrees of overlordship in parts of Dumfriesshire, Ayrshire, Dunbartonshire and Renfrewshire. In the lands between Galloway and the Principality of Cumbria, David eventually set up large-scale marcher lordships, such as Annandale for Robert de Brus, Cunningham for Hugh de Morville, and possibly Strathgryfe for Walter Fitzalan.
In the later part of 1113, King Henry gave David the hand of Matilda of Huntingdon, daughter and heiress of Waltheof, Earl of Northumberland. The marriage brought with it the "Honour of Huntingdon", a lordship scattered through the shires of Northampton, Huntingdon, and Bedford. Within a few years, Matilda bore a son, whom David named Henry after his patron.
The new territories which David controlled were a valuable supplement to his income and manpower, increasing his status as one of the most powerful magnates in the Kingdom of the English. Moreover, Matilda's father Waltheof had been Earl of Northumberland, a defunct lordship which had covered the far north of England and included Cumberland and Westmorland, Northumberland proper, as well as overlordship of the bishopric of Durham.
After King Henry's death, David revived the claim to this earldom for his son, Henry. David's activities and whereabouts after 1114 are not always easy to trace. He spent much of his time outside his principality, in England and in Normandy. Despite the death of his sister on 1 May 1118, David still possessed the favour of King Henry when his brother Alexander died in 1124, leaving Scotland without a king.
The greatest blow to David's plans came on 12 July 1152 when Henry, Earl of Northumberland, David's only son and heir, died. David had under a year to live, and he may have known that he was not going to be alive much longer. David quickly arranged for his grandson Malcolm IV to be made his successor, and for his younger grandson William to be made Earl of Northumberland.
David's health began to fail seriously in the spring of 1153, and on 24 May 1153, David died in Carlisle Castle. In his obituary in the Annals of Tigernach, he is called Dabíd mac Mail Colaim, rí Alban & Saxan, "David, son of Malcolm, King of Scotland and England", a title which acknowledged the importance of the new English part of David's realm.
King David was a social and religious Reformer, a man of great administrative skills, apostle of charity and of holy piety. He transformed his Kingdom by the widespread introduction of Catholic Churches and Monasteries, thus also assisting in the international diplomatic influence of his country, its farming and agricultural wealth and its education. He was the main force and instrument of God in Christianising Scotland. His patronage is Scotland and various Dioceses and Churches there.
He was buried in Dunfermline Abbey.
David I is recognised as a saint by the Roman Catholic Church, with a feast day of 24 May, though it appears that he was never formally canonized. There are churches in Scotland which have him as their patron. His mother Saint Margaret of Scotland was canonised in 1250.
David's friend, (Saint) Aelred, abbot of the English monastery of Rievaulx, was later to recount David's religious devotion and his generosity to the poor. From his riches he also endowed the founding of several dioceses and many monasteries. David was to express profound remorse for an ill-conceived and ill-fated invasion of England he had ordered on behalf of his niece.
He also suffered the sorrow of the premature death of his only son. On Friday, May 22, 1153, as David was nearing death, he received the anointing of the sick and Viaticum, after which he devoted himself to reciting the Psalms with those at his bedside.
The next day, the king told those urging him to take a rest from his devotions, "Let me rather think about the things of God, so that my spirit may set out strengthened on its journey from exile to home. When I stand before God's tremendous judgment seat, you will not be able to answer for me or defend me." He thus continued with his prayers.
PRAYER
Lord God, your appointed Saint David's reluctance to become king, his sense of justice and his accessibility to everyone, his efforts to maintain concord among the clergy, tells of his personal piety.
He was instrumental in the great work he did for the consolidation of the Kingdom of Scotland and for spreading Christianity throughout Scotland.
Assist us Lord, in working towards the edification of our Christian faith, in Jesus' Name. Amen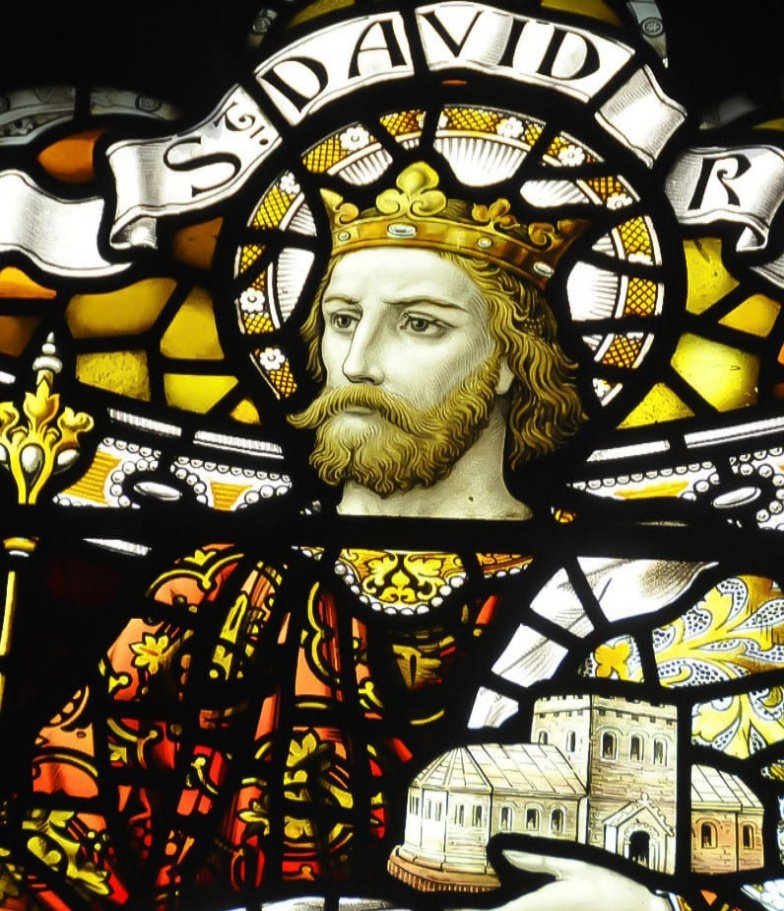 Saint David I of Scotland, pray for us.