FEAST OF SAINT ENDA OF ARAN, ABBOT
FEAST DAY – 21st MARCH
Saint Enda of Aran (born 430, died 530 AD) is an Irish saint. His feast day is 21 March. According to the Martyrdom of Oengus, Enda was an Irish prince, son of Conall Derg of Oriel (Ergall) in Ulster. Legend has it that when his father died, he succeeded him as king and went off to fight his enemies. The soldier Enda was converted by his sister, Saint Fanchea, an abbess.
He visited Fanchea, who tried to persuade him to lay down his arms. He agreed, if only she would give him a young girl in the convent for a wife. He renounced his dreams of conquest and decided to marry. The girl she promised turned out to have just died, and Fanchea forced him to view the girl's corpse, to teach him that he, too, would face death and judgment.
Faced with the reality of death, and by his sister's persuasion, Enda decided to study for the priesthood, and studied first at St Ailbe's monastery at Emly. Fanchea sent him to Rosnat, a great center of monasticism. There he took monastic vows and was ordained. The stories told of the early life of Saint Enda and his sister are unhistorical. More authentic vitae survive at Tighlaghearny at Inishmore, where he was buried.
Returning to Ireland, Enda built a church at Drogheda. About 484 he was given land in the Aran Islands by his brother-in-law, Aengus, King of Munster. Enda's monks imitated the asceticism and simplicity of the earliest Egyptian desert hermits. He established the monastery of Enda, which is regarded as the first Irish monastery, at Killeany on Inismór.
He also established a monastery in the Boyne valley, and several others across the island, and along with Finnian of Clonard is known as the father of Irish monasticism. At Killeaney the monks lived a hard life of manual labour, prayer, fasting, and study of the Scriptures. The monks of Aran lived alone in their stone cells, slept on the ground, ate together in silence, and survived by farming and fishing.
Enda divided the island into two parts, one half assigned to the monastery of Killeany, and the western half to such of his disciples as chose "to erect permanent religious houses on the island". Later he divided the island into 8 parts, in each of which he built a "place of refuge". The life of Enda and his monks was frugal and austere. They invariably carried out the monastic rule of procuring their own food and clothing by the labour of their hands.
Some fished around the islands; others cultivated patches of oats or barley in sheltered spots between the rocks. Others ground grain or kneaded the meal into bread, and baked it for the use of the brethren. They spun and wove their own garments from the undyed wool of their own sheep. They could grow no fruit in these storm-swept islands; they drank neither wine nor mead, and they had no flesh meat, except perhaps a little for the sick.
Enda's monastery flourished until Viking times, but much of the stone was ransacked by Cromwell's men in the 1650s for fortifications, so only scattered ruins remain. Most survive as coastal ruined towers. Cattle, goats, and horses now huddle and shiver in the storm under many of the ruins of old walls where once men lived and prayed.
These structures were the chosen home of a group of poor and devoted men under Saint Enda. He taught them to love the hard rock, the dripping cave, and the barren earth swept by the western gales. They were "men of the caves", and "also men of the Cross". One tale tells that Saint Brecan was not happy with Enda's land division so Enda and Brecan made an agreement.
Each decided to say mass at his own monastery on either end of the island, and when they finished they would begin walking towards the centre. Wherever they met, that's where they'd divide the land. But Brecan began saying mass earlier than the agreed time. Enda prayed for divine intervention. Brecan's feet became stuck in the sand at the beach of Kilmurvey, and Enda wound up getting most of the land.
During his own lifetime, Enda's monastic settlement on the Aran islands became an important pilgrimage destination, as well as a centre for the evangelisation of surrounding areas. At least two dozen canonised individuals had some association with "Aran of the Saints". Among these were Saint Brendan the Voyager, who was blessed for his voyage there; Jarlath of Tuam, Finnian of Clonard, and Saint Columba of Iona who called it the "Sun of the West".
Aran became a miniature Mount Athos, with a dozen monasteries scattered over the island, the most famous, Killeany, where Enda himself lived. There, a great tradition of austerity, holiness, and learning was begun. Saint Ciaran of Clonmacnoise came there first as a youth to grind corn, and would have remained there for life but for Enda's insistence that his true work lay elsewhere, reluctant though he was to part with him.
Saint Finnian left St Enda and founded the monastery of Moville (where Columba spent part of his youth) and who afterwards became bishop of Lucca in Tuscany, Italy. Among those who spent time with Enda was Carthach the Elder. Ciarán is said to have walked to Clonmacnoise with his pet cow, which was a particularly good milker; long after her death in great old age the Book of the Dun Cow was bound in her skin. Saint Enda died around the year 530.
Enda's holy well is situated on the road to Silver Strand, 5 kilometres from Galway city. It is reputed to have been the resting place of St Enda on his way to the Aran islands. Local tradition has it that St Enda used it to spend the night there on his way to the islands and that one day a well sprung up as he prayed. Pilgrimages were made regularly to the well. Locals still carry out a ceremony called Turas to the Well of Enda. It is said that the well has healing powers and that it never runs dry.
PRAYER
Grant us, O Lord, that amid the uncertainties of this world we may cling with all our heart to the things of heaven, for through the Abbot Blessed Enda, you have given us a model of evangelical perfection.
Through our Lord Jesus Christ, your Son, who lives and reigns with you in the unity of the Holy Spirit, one God, for ever and ever. Amen
(From the Roman Missal.)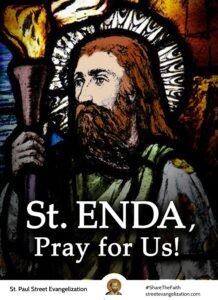 St Enda, pray for us that we will remain humble in our ways towards others.