FEAST OF SAINT JOHN BERCHMANS
FEAST DAY – 26th NOVEMBER
​John was born at Diest, Brabant, the eldest son of a shoemaker. His parents were John Charles and Elizabeth Berchmans. At baptism he was named John, in honor of John the Baptist. He grew up in an atmosphere of political unrest because of a religious war between the Catholic and Protestants. At nine years of age, his mother was bedridden by a very serious illness. John would pass several hours by her side and studied at a Gymnasium in Diest.
He wished to be a priest, and when he turned thirteen, served in the household of one of the Cathedral canons at Malines, John Froymont. He was given entrance in the Jesuit College at Malines in 1615, and became a Jesuit novice.
Immediately upon entering, he enrolled in the Sodality of the Blessed Virgin. He had a special devotion to Mary, mother of Jesus; and to him is owed the Little Rosary of the Immaculate Conception.
When Berchmans told his parents that he would like to join the Society of Jesus, his father traveled to Mechelen to dissuade him and sent him to the Franciscan convent in Mechelen, where a friar also tried to change his mind. His father threatened to end all financial aid if he failed to change his plan. On 24 January 1618, he took his first vows and went to Antwerp to study philosophy.
He then went to Rome in the latter part of 1618 to continue his studies, and impressed everyone with his diligence, holiness,, piety and perfection in all things. He adopted a spiritual model, a Jesuit named Aloysius Gonzaga, and he was struck deeply by the example of English Jesuit martyrs. John was affable and endowed with a genial personality that endeared him to all. He hoped that after ordination as a priest he could become a chaplain in the army, and be martyred on the battlefield.
Later, in August 1621, the prefect of studies selected Berchmans to be a part of a debate of philosophy at the Greek College, which at the time was managed by Dominicans. Berchmans started the discussion with great lucidity and profoundness, but after returning to his own quarters, was struck down with the Roman fever. His lungs became severely inflamed and his condition deteriorated rapidly.
He succumbed to dysentery on 13th August 1621, at the age of twenty-two years and five months. When he died, a large crowd assembled to view his remains and to invoke his intercession. That same year, Phillip-Charles, Duke of Aarschot, sent a petition to the Pope
Gregory XV with a view to beginning the process leading to the beatification of Berchmans, whose remains were eventually buried in Sant'Ignazio Church.
His heart was returned to his homeland in Belgium where it is kept in a silver reliquary on a side altar in the church at Leuven. Berchmans was declared Blessed in 1865. Statues frequently depict him with hands clasped, holding his crucifix, his book of rules, and his rosary. Many miracles were attributed to him after his death, and he was canonized in 1888. He is the patron saint of altar servers, Jesuit scholastics, and students. His feast day is November 26.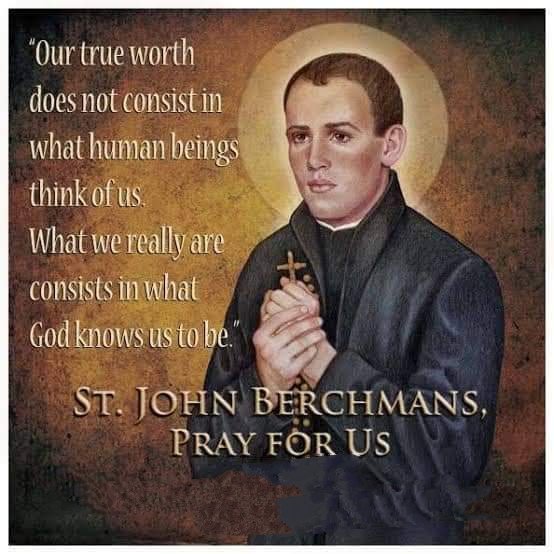 PRAYER
Eternal God, you invite us always to give you our love and are pleased with a cheerful giver. Give us a youthful spirit, to be like St. John, always eager to seek you and to do your will. Help us to be patient, devout, pleasing by our nature and aiding everyone by our inclination.
We ask you Lord, through the good offices of Saint John Berchmans, to have a dedicated spirit and revere Mary our Mother, achieving perfection, through our Lord Jesus Christ, your Son, who lives and reigns with you and the Holy Spirit, one God, for ever and ever.
Amen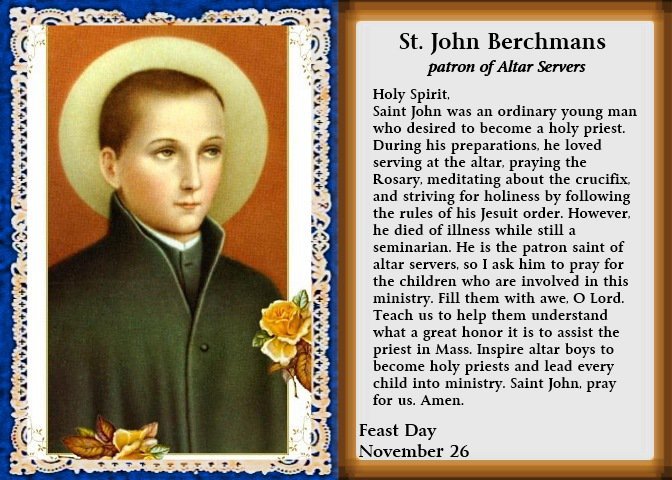 St John Berchmans, pray for us.