FEAST OF SAINT METHODIUS I OF CONSTANTINOPLE PATRIARCH AND CONFESSOR
FEAST DAY – 14th JUNE
St. Methodios I or Methodius I (788/800 – June 14, 847) was Ecumenical Patriarch of Constantinople from March 4, 843 to June 14, 847. He was born in Syracuse and died in Constantinople. His feast day is celebrated on June 14 in both the East and the West. He was born in Syracuse, Sicily. Forsaking the world, he built a monastery in the island of Chio,
He was afterwards called to Constantinople by the patriarch St. Nicephorus, whom he accompanied in his two banishments, under the Iconoclast emperor, Leo the Armenian. In 817 he was sent by that patriarch Apocrisiarius or Nuncio to Rome.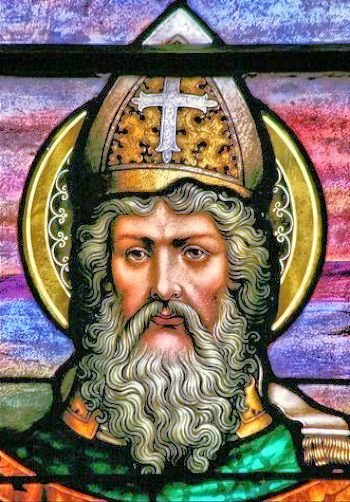 Upon the news of the death of St. Nicephorus, he returned to Constantinople; but was thrown into prison by the heretical emperor Michael the Stammerer, where he remained till the end of his reign. In 830 he was released by the Catholic empress Theodora, but soon after banished by her impious husband Theophilus.
That prince dying in 842, Theodora became regent for her son Michael III, and placed Methodius in the patriarchal chair of Constantinople. He purged that church of heresy, and instituted an annual feast of thanksgiving, called the Festival of Orthodoxy.
Having filled that See for four years, he died of a dropsy on the 14th of June, 847. His immediate successor, St. Ignatius, celebrated his festival yearly, and it is kept both by the Latin and Greek churches. Having had his jaw broken in the persecution, he wore a bandage under his chin to support it.
The works of St. Methodius consist of penitential canons, certain sermons, and an encomium of St. Dionysius the Areopagite, in which some think he made use of the works of Hilduin, which he probably saw at Rome. Throughout his short patriarchate, Methodios tried to pursue a moderate line of accommodation with members of the clergy who were formerly Iconoclasts.
This policy was opposed by extremists, primarily the monks of the Stoudios monastery, who demanded that the former Iconoclasts be punished severely as heretics. To rein in the extremists, Methodios was forced to excommunicate and arrest some of the more persevering monks.
Methodios was indeed well-educated; engaged in both copying and writing of manuscripts. His individual works included polemica, hagiographical and liturgical works, sermons and poetry.
PRAYER
God, Saint Methodius of Constantinople worked hard to unify and reconcile opposing sides within the Church. He traveled to Rome to seek the Pope's help, but during his absence he was exiled. Seven years later, he returned home and continued to work for unity.
We ask him to pray for the Christian Church, which is so disunified today. Lord Jesus, be our source of unity. Inspire the members of all denominations to desire reconciliation and to appreciate what we do have in common.
Help us to grow in love with each other, serving the Kingdom of God side by side, hand in hand. Saint Methodius of Constantinople, pray for us. Amen
(Source of prayer – gnm.org)