FEAST OF THE IMMACULATE HEART OF MARY
"Why were you searching for me?" he asked. "Didn't you know I had to be in my Father's house?" But they did not understand what he was saying to them. Then he went down to Nazareth with them and was obedient to them. But his mother treasured all these things in her heart. – Luke 2:49-51
The Feast of the Immaculate Heart of Mary is used to refer to the interior life of the Blessed Virgin Mary, her joys and sorrows, her virtues and hidden perfections, and above all, her virginal love for God the Father, her maternal love for her son Jesus, and her compassionate love for all persons. Two elements essential to the devotion are Mary's interior life and the beauties of her soul, and Mary's virginal body.
Today's feast day of the Immaculate Heart of Mary falls on the day after the feast of the Sacred Heart of Jesus because devotion to these two hearts was promoted together as a means of entering more deeply into the mystery of God's love.
In 1944, in the midst of World War II, Pope Pius XII dedicated the entire world to the patronage and protection of the Immaculate Heart of Mary—the intention expressed in his decree was "peace among nations, freedom for the Church, the conversion of sinners, the love of purity and the practice of virtue."
Though it found prominence in the 20th century, devotion to Mary's Immaculate Heart is not new. Early Christians revered the movements of Mary's heart in the Gospels. Mary was faithful to Jesus to the end, and the image of her sorrowfully beholding her Son on the cross has always struck a deep chord with the faithful.
According to Roman Catholic theology, soul and body are necessary to the constitution of man. It was in 1855, that the Mass of the Most Pure Heart of Mary formally became a part of the Catholic practice.
Traditionally, the heart of Mary in artwork is depicted with seven wounds or swords, in homage to the seven sorrows of Mary. Also, roses or another type of flower may be wrapped around the heart.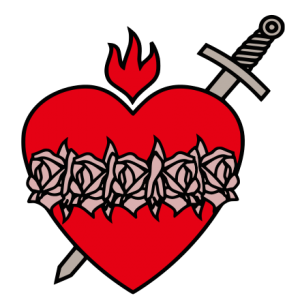 PRAYER
Immaculate Heart of Mary, Heavenly splendor, and Queen of Heaven, pure Virgin, full of grace then and now, your whole being was raised to Heaven in full glory, to be elevated above all the hosts within the Kingdom of God. Immaculate Heart of Mary, we ask of you by the infinite merits of the Sacred Heart of Jesus, and by the graces God has granted to you since your Immaculate Conception, the grace of never going astray and remaining true and faithful, always contemplating the purpose and direction of God's Holy Will for us, just as you did.
Mother Mary, Jesus gave you to us, to be our Mother forever, before leaving this earth in his human capacity. You were privileged to nurture Jesus in his childhood and watch him complete his ministry on this earth, suffering in silence and keeping all your deep sorrow as a mother, stored up in your tender heart.
Dear Mother, you meekly and humbly submitted totally and trustingly to the Will of God, readily accepting the role you were created for, as the new Eve, ushering in the dawn of Salvation by carrying the hope of eternal life and redemption in your virginal womb, our Savior and Messiah Jesus. Help us, sinners, to become worthy like you. We pray that through you, in your role as Mother and our Mediatrix, we gain the favor and graces of God, as we humbly pray that you place our petitions to your Son Jesus our Lord. Amen