FEAST OF THE QUEEN OF THE MOST HOLY ROSARY – 7th OCTOBER 
Queen of the Most Holy Rosary, you have dispensed pardon and grace over all those who recite the decades of your most Holy Rosary. You admonished Saint Dominic to spread the devotion of the Holy rosary to achieve victory over heresy, vice and impiety and instructed that it be used as a powerful weapon in spiritual warfare against all assaults of evil.
This powerful prayer unravels and unfolds the mysteries of the Son of God, who came as the Son of Man, to redeem us, by offering his life as a ransom for the liquidation of our sins for all time. Everytime we recite the decades of the Holy Rosary, we contemplate the birth, the life, the death and the resurrection of our Lord Jesus Christ and the important role enacted by you, as the instrument through which man received salvation. But for your obedience to God's Holy Will and absolute acceptance of it without the shadow of any doubt, mankind would have been doomed and forever fettered in bondage to the evil one.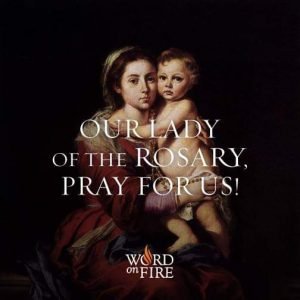 The Holy Rosary elaborates and reveals in perfect detail the magnificent saga of the two most extraordinary beings ever inhabiting the earth. One born of flesh, but evolving to the purest, immaculate perfection by carrying divinity in her womb, and clothed in her flesh, bringing forth the divine Son of God, to dwell on this earth.
By its daily recitation we commemorate the joyful mysteries right from Angel Gabriel's annunciation of the coming of the Messiah, through his birth and spiritual growth. The luminous mysteries reveal how the Divine Light of our Lord spread to enlighten the world and shows the wondrous works of his hands. The sorrowful mysteries take us through a painful account of his passion and death, as a sacrificial ransom paid for the elevation of mankind to freedom and the gift of eternal salvation. The glorious mysteries reveal the resurrected Lord till his taking his rightful place as the Son of the Father upon his ascension, your departure from this earth, dear Mother, and your glorious crowning as the Queen of heaven.
Dear Mother, you continue to support the race of your origin with visions of your glory when we feel utterly defeated, continuing the work of salvation which began from you and interceding as our Mediatrix, to obtain for us, the grace needed to live righteously upon earth, in order to be numbered among the just in heaven. You are the vanquisher of all heresies. Defend us from our evil foes and make us worthy of the promises of Christ. Amen